Melissa Mack Unveils Mel.Oh.Drama. T-Shirt Collection on Teesbymelohdrama.com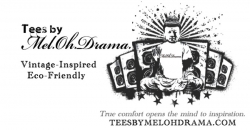 Phoenix, AZ, February 13, 2010 --(
PR.com
)-- Mel.Oh.Drama. LLC announces the launch of it's e-shop (teesbymelohdrama.com), the exclusive carrier of eco-chic t-shirts from Melissa Mack.
Mack, who started out at Contempo Casuals at the age of 16 has "….always loved fashion and clothing. My mother loved clothing! My dad literally had to build closets for all of her stuff!"
Eventually she became a buyer for a small boutique in Atlanta. "I was always very happy when we went to the local shows. I've always had great style and knew that I could create simple pieces that were eco-friendly, chic, and comfy for ladies."
This is exactly what Melissa Mack did with her new organic line, Mel.Oh.Drama. The collection is becoming recognized for its eco-chic t-shirts. The two styles that Mel.Oh.Drama. has launched are the Shredded Eco Tees as well as the Bamboo t-shirts. The Shredded Eco Tees are their top sellers. Mack shreds each t-shirt by hand herself and adds a simple, yet funky graphic to each one. The shredding effect produces a beautiful drape to the shirt. "I wanted something unique….anyone can put a graphic on a t-shirt. I'm influenced by the 70's big time. I love anything boho, hippy, vintage, faded." she adds, " I knew that once the ladies saw the shredded tees and how they draped the body, I knew they would love it." It also doesn't hurt that the fabrics are eco-friendly and comfortable.
Another popular item is the "I Recycle Boys" Bamboo tee. "The girls Love this one!". said Mack. "You really have to feel the bamboo. It's soooo soft! People will greet me with a hug and automatically start feeling the fabric! It's the funniest thing!"
With a great start to her new collection, Mack is planning another higher end t-shirt collection as well as dresses.
###
Contact
Mel.Oh.Drama.
Melissa Mack
513 3282959
teesbymelohdrama.com

Contact