Combi® USA Launches Updated Twin Sport Stroller
The Twin Sport is wide enough to comfortably seat two children weighing up to 45 pounds while narrow enough to fit through standard doorways.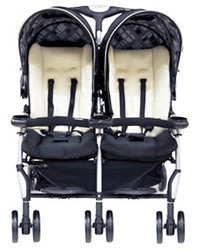 Fort Mill, SC, February 20, 2010 --(
PR.com
)-- Stroller and car seat manufacturer Combi USA, launches the updated Twin Sport with a wider seating area. The side-by-side stroller maintains a lightweight, compact and portable size.
"The Twin Sport is a great solution for parents of twins, or an infant and toddler, who are interested in convenience. It's roomy enough for children weighing up to 45 pounds but still fits through standard doorways. It folds to a compact size, is self-standing and can be opened with one hand if you're holding your child," said Pam Brown, Combi USA's West Coast Sales Manager. "The compatibility with one infant carrier is unique for a side-by-side stroller and makes the transition to a second child easier."
The SHUTTLE 33 infant car seat can be easily attached to the Twin Sport to create a travel system. It can accommodate infants up to 33 pounds and 33 inches so that they can remain rear-facing longer. The SHUTTLE 33 offers a number of industry-leading safety features, maintaining Combi's dedication to child passenger safety.
Combi strollers, including the Twin Sport, feature the patented 3-Second Fold®, allowing for a quick and compact fold in just three seconds. Wide, reclinable seats with breathable air-mesh fabric, footrests, 5-point harnesses and infant safety boots for newborns make for a safe and comfortable environment for children. The adjustable canopies include storage pockets and viewing windows. The carrying strap, storage baskets, removable guardrail with cup/snack holders and removable and washable seat cushions add convenience. And weighing just 22¼ pounds makes the Twin Sport easier to lift for storage.
The Twin Sport is available in four colors and retails for $229.99. The SHUTTLE 33 infant car seat is available in a variety of colors and retails for $179.99. 3-Second Fold® is a registered trademark of Combi USA, Inc.
About Combi USA: Combi, a shortening of the word "combination," refers to the combination of mother and child. Combi USA, Inc., established in 1989, is a subsidiary of Combi Corporation. Established in 1961, Combi Corporation is a Japan-based company that has carefully cultivated a firm and growing foundation of customer trust. For the past forty years, this trust has driven the brand forward as a leader in the juvenile products industry. Since its inception, Combi has remained true to its core commitment to establish healthy living environments for babies. Today, Combi provides safe, original juvenile products for nearly every setting of a child's life. For more information on Combi products, visit www.combi-intl.com.
###
Contact
Combi USA
Tanya Reid
803-548-6633
www.combi-intl.com

Contact