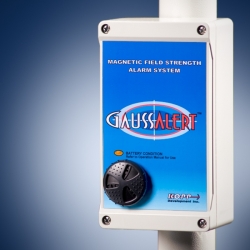 Jensen Beach, FL, February 24, 2010 --(
PR.com
)-- GaussAlert™ constantly monitors the invisible magnetic field and alarms when MRI Conditional equipment is moved too close to the MRI magnet. It helps to keep such equipment outside of the MRI exclusion zone. GaussAlert™ internally-powered with no periodic maintenance requirements and has no need to have the battery change for at least 5 years.
It is a very low cost MRI Safety device that is below a typical capital equipment budget threshold.
Numerous safety and regulatory entities such as ECRI Institute, American College of Radiology (ACR) and The Joint Commission (JCAHO) recognize and highlight the dangers involved with MR Conditional devices getting too close to the MRI magnet and its associated field.
"The normal or safe operation of many medical devices designed for use in the MR environment may be disrupted by exposure to conditions exceeding the device's conditional rating threshold. It is advisable for MR facilities to identify the maximum conditional rating for static field and spatial gradient exposure for each MR Conditional device that may be brought into Zone IV."
ACR Guidance Document for Safe MR Practices: 2007, Page 23
"Injury or complication … can and have occurred… related to equipment or device malfunction or failure caused by the magnetic field. For example, battery-powered devices (laryngoscopes, microinfusion pumps, monitors, etc.) can suddenly fail to operate; some programmable infusion pumps may perform erratically; (3)…"
JCAHO Sentinel Event Alert #38 (Preventing Accidents and Injuries in the MRI Suite): 2008
MRI patient safety is the main goal of our company. For years, Kopp Development Inc. has been the world's premier manufacturer of Ferromagnetic Detectors for MRI. We pride ourselves in providing the highest quality products with outstanding customer support. We are closely working with world acclaimed experts to help our customers overcome their most pressing MRI safety challenges.
For further information, please contact us at
Tel: 888-838-5677
Website:
www.koppdevelopment.com
###