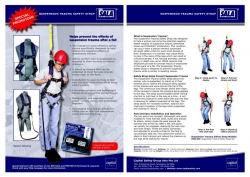 Singapore, Singapore, March 05, 2010 --(
PR.com
)-- Capital Safety has easy, reliable solution for workers suspended at heights.
Thanks to the engineers at Capital Safety Group (CSG), workers suspended in harnesses after falls can avoid serious health consequences by deploying the DBI-SALA Suspension Trauma Safety Strap. Compact, lightweight and easily installed to most harness sizes, styles and brands, this specially designed device comes in a two-pack set. The packs can be quickly unzipped, releasing a web loop and hook straps that connect and adjust, providing a resting place for the feet.
"Using our Suspension Trauma Safety Strap to stand up in a harness, the suspended worker effectively relieves pressure in the arteries and veins around the top of the leg, thus improving circulation and preventing unconsciousness or serious injury. This is especially crucial if rescue is delayed," said CSG Asia's Marketing Manager, Kelvin Tan.
Capital Safety, the world's leading designer and manufacturer of height safety and fall protection equipment with 12 operating sites worldwide, is home of the DBI-SALA and PROTECTA brands. All of Capital Safety's fall protection and rescue systems are backed by the best training, technical assistance, and customer service in the industry.
For more information, contact Capital Safety at +65 6558-7758 or visit them on the web at
www.capitalsafety.com
.
###