DVDVideoSoft Releases New Versions of Burning Software
A developer of free multimedia software, DVDVideoSoft has updated its free applications Free Disc Burner and Free DVD Video Burner.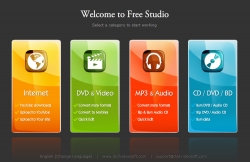 New York, NY, February 26, 2010 --(
PR.com
)-- New technology advancements provide new challenges for software developers and render a new base for creation of "a better software in a better world." DVDVideoSoft always tends to respond its users' needs and stick to dynamically changing technology.
That is why today DVDVideoSoft releases updated versions of two widely popular programs - Free Disc Burner and Free DVD Video Burner. These programs have been enriched with new engines which facilitate burning process and bring more opportunities for users as now much more drives are supported.
Free Disc Burner will now be able to support burning of .ISO (disc image) files. This feature will diversify program's capacity and render new perspectives in usage.
As Windows 7 reviews throughout the world have been very positive according to recent surveys and DVDVideoSoft improved its software by adding full compatibility with this already widely used platform. At the beginning, however, DVDVideoSoft encountered slight difficulty in switching to Windows 7 especially for burning software. But integration of new burning engines with support of more drives helped to solve this challenging issue.
Moreover, all known errors and bugs were eliminated from the programs and this advancement finalized software improvement and let the company stay on the level of an advanced software developer.
Product-development manager of DVDVideoSoft, Eva Theis: "Improvement of our burning software helps DVDVideoSoft stay ahead of the competition and give our favourable users access to the latest emerging technologies. We are very pleased to announce that we are among the first to provide our users opportunity to be up-to-date with our software."
As usual DVDVideoSoft welcomes everyone to get the updated versions of its free multimedia programs directly at
www.dvdvideosoft.com
.
About the Company:
DVDVideoSoft (
www.dvdvideosoft.com
) is an independent developer of multimedia software programs for video and audio processing which are free and, which is more important, simple and very useful. The company was founded at the end of 2006. Today DVDVideoSoft offers 23 free applications which run under XP, Vista and Windows 7, writes step-by-step instructions on how to solve different multimedia tasks with the help of its programs and, if necessary, provides free comprehensive support in English, German, French, Spanish, Chinese and Japanese.
Media Contact:
Alex Wang
pr@dvdvideosoft.com
+1 347-410-9450
###
Contact
DVDVideoSoft Limited
Alex Wang
+1 347 410 9450
http://www.dvdvideosoft.com

Contact