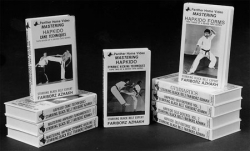 Woodland hills, CA, March 02, 2010 --(
PR.com
)-- In 1982, the first training tapes ever to show Hapkido methods were released by Panther Productions, and quickly fought its way to becoming one of Panther Production's best selling videos everywhere, as well as creating a worldwide standard for the Korean art. Now, Century Martial Arts is trying to re-capture lightning in a bottle – almost literally – by teaming with the original martial artist who brought such success to the 1982 Hapkido series in order to produce a 5-disc instructional set that will be released in April of this year.
The martial artist behind both the previous best-seller and the upcoming release is Fariborz Azhakh, 6th degree Hapkido blackbelt and owner/operator of one of Team Karate Centers, one of the largest martial arts studios in California.
Mr. Fariborz has trained under legendary greats such as 8th degree black belt Steve Sexton (one of the highest ranking Hapkido Masters in the United States), Hapkido Grandmaster Ji Han Jae, Benny "The Jet" Urquidez, Ron Balicki and many others. In addition, Master Azhakh also is the founder of www.martialinfo.com, one of the most comprehensive repositories of martial arts information in the world.
But Century Martial Art's upcoming Hapkido release promises to be more than just a retread of the same old thing with the same old faces: in the 28 years since his original debut, Mr. Azhakh has not only grown in Hapkido, he has also created his own "twist" on the art. The variation, called "Hapkido Blend," is based on ancient traditional concepts – physical, mental, and spiritual – but blended with a modern approach.
"It's Hapkido," says Azhakh, "but more than Hapkido in that it takes all that is useful in the traditional versions and then adds to that aspects of other martial arts which augment Hapkido and create a multi-cultural martial art based on usefulness." Indeed, at the main studio of Team Karate Centers, students can expect instruction in more different styles than probably any other in the world.
And so while purchasers of the upcoming 5-disc set can expect to see all the hallmarks of Hapkido – joint locks, powerful hand strikes, and high-flying kicks – they will also be instructed in pieces of other martial arts that Mr. Azhakh has integrated into his personal system over the years. When you learn grappling from Mr. Azhakh, you may be grappling "Hapkido" style, or you may be using Brazilian Jiu Jitsu techniques because, as Azhakh puts it, "Effectiveness is everything."
This is a sentiment that was often espoused by the late great Bruce Lee, who revolutionized martial arts thinking with his ideas of discarding formal styles in favor of fluidly effective moves tailored to the abilities of each student. And though that master died without being able to provide the kind of demonstration and teaching that will soon be available on Century Martial Art's 5-disc set, the upcoming release seems poised to perfectly fill that void.
Unlike many Oriental-based systems, which pride themselves on lineages that span millennia, Hapkido is particularly appropriate for learning self-defense in today's world. Founded in the early 20th century, the Hapkido means "the way of coordinated power" or "the way of harmony," an art that focuses not on points or on "winning," but on teaching reality-based self-defense skills. Mr. Azhakh has continued the Hapkido tradition by continuing to review and refine his practice over the years.
Now, for the first time ever, Hapkido Blend will be available as a training aid for anyone in the world. And, like its predecessor videos under Panther Productions, there is little doubt that Mr. Azhakh's new partnership with Century Martial Arts will set yet another highwater mark in quality, knowledge, and – may we say it? – the way of coordinated power.
Team Karate Centers, Inc.
21038-A Victory Blvd. Woodland Hills, CA 91367
Phone: 818 704 0606
Fax: 818 704 5638
Email: admin@teamkaratecenters.com
Team Karate Centers, www.teamkaratecenters.com, admin@teamkaratecenters.com
###