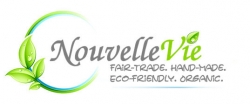 Austin, TX, March 16, 2010 --(
PR.com
)-- An innovative company, NouvelleVie Enterprises LLC, is taking a bold step to create a sustainable and compassionate world by combining fair-trade, hand-made, eco-friendly and organic products with charitable opportunities.
NouvelleVie—which means "new life" in French—recently launched a Web site that sells sustainable products and hand crafted jewelry by local and international artisans, as well as organic and natural solutions. The Georgetown, Texas-based company is also donating 10 percent of every purchase over $50 to support disaster relief in Haiti. "Giving back to communities and enabling healthy families are important to us," said co-owner Sancia Matthyssen. "Even though we are a start-up and our footprint is small, we will make a significant impact through each step that we and our community take together."
NouvelleVie's products, which include natural foods, clothing, jewelry and natural remedies, represent a variety of organic ingredients, natural fibers and recycled materials. The company personally selects each of its products and services with the goal of offering solutions that make life better, easier, simpler, and more fulfilling for women. NouvelleVie has established exciting partnerships that include the Women's Bean Project; Maryann's Beans and Gourmet Mixes; nicobella vegan organic dark chocolate truffles; Purely Elizabeth baking mixes; Anti-Body Fair Trade and organic body care; Priti NYC natural nail care; and Global Giving charities. The company also offers personal development courses for the community, including local or virtual Reiki healing techniques and family wellness workshops.
According to the co-owners, developing one place where women-owned enterprises can be embraced is important and allows NouvelleVie to support the continuation of unique artisan techniques and cultures. This environment allows people to express themselves and bring beauty to the world—and to be paid a fair wage for doing so. It's also essential for the company to connect with and empower women, especially those who own small businesses.
The affinity NouvelleVie has for women is understandable, as the company was founded by two working moms: Matthyssen and Bakir. The partners launched NouvelleVie in 2008 to follow their passion for creativity, beauty and harmony. In effect, they created a new life for themselves, as well as a legacy for other women. Today, NouvelleVie is dedicated to connecting with and enabling self-sufficiency in working women at all levels. "Through giving, receiving, sharing, healing and empowerment, it unifies us all and puts each of us back in touch with our own unique essence," Matthyssen said. "We want our partners and customers to see us as a self-nurturing community rather than a route to market."
For more information about NouvelleVie or its new Web site, please visit
www.nouvellevieus.com
or call 800-898-6321. NouvelleVie can also be followed at http://twitter.com/NUV4ME.
###