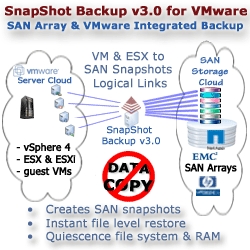 Toronto, Canada, March 22, 2010 --(
PR.com
)--
SnapShot Backup for VMWare
is the New Generation of Backup for VMWare. It reduces operational costs, simplifies backup architecture and reduces backup impact by integrating VMWare backup with multi-vendor SAN arrays into single solution.
SnapShot Backup for VMWare eliminates the need for media/proxy servers, reading/copying of data, backup windows, and vStorage/VCB snapshot based backup.
Ivan Tsarynny, Ardeo Logic's President and CEO explains: "Data Backup is often a huge struggle for businesses of all sizes. Backup is a complex ecosystem of infinitely growing amount of data, servers, disk/tape systems and networks. Most firms have difficulty completing backups in the backup window, and a large number of restores fail.
"The most common challenges for 'data read & copy' based backups are:
Failed backups
Failed Restores
Expensive Infrastructure: Media servers, network and disk storage.
"Our clients asked for a new solution that eliminates performance impacts, complexity, and overhead costs inherent by the traditional approaches.
"Commonsense solution is simple:
Safe, Instant and Zero Impact backup that keeps your business running 24x7x365
Restore of individual files, guest VM and entire datacenters in seconds
Media server-less backup process that eliminates data transfer, network impact and storage duplication.
"Imagine a day when your data is backed up by SAN snapshots. Your data is safe 24/7/365, is never copied through media servers, and can be restored in seconds. Restore requests for individual files, VM servers and entire ESX hosts are done in seconds, directly from SAN snapshots and replicas. You have piece of mind that your data is safe and you know that you lowered your total backup costs by approximately 90%.
"Ask yourself if it's something you would enjoy?"
SnapShot Backup v3.0 for VMWare with granular file, disk and server level restore offers:
100% Reliable Backup - uses your trusted SAN hardware for data backup and restore. Hardware snapshots unlike software backup is near 100% successful
Zero Impact Backup eliminates backup windows, backups can run 24x7x365
Simplicity – 1 SnapShot Backup server replaces up to 30 traditional media servers
Reduced Impact – no backup data is transferred over the network
Immediate ROI and Low cost of ownership – "proxy server-less" backup process, no need to purchase VMWare Backup License for all servers and no storage wasted for holding backups
SnapShot Backup for VMWare performs Backups using SAN Snapshot functionality of your SAN. It seamlessly integrates with your existing SAN arrays, discovers Data Volumes, VMWare datastores, VMDK files associated guest VM servers.
SnapShot Backup v3.0 lets you restore VM servers to the exact "Up and Running" state by creating VM's RAM snapshot, quiescence of VM's file systems, and for extra protection takes an optional VMWare based snapshots.
Features:
Instant SAN snapshot backups & restores
File & server level restore from SAN snapshot
Quiescence VM's file system before SAN snapshot
VM's RAM snapshot before SAN snapshot
VM's vmdk files can be located on multiple LUNs and Datastores
Optional VM level snapshot before SAN snapshot
Traditional vStorage and VCB backup with Change Block Tracking
vSphere 4, ESX, ESXi and vCenter support
Integrates your SAN array with VMware platform backup
Cross vendor SAN array support: EMC, NETAPP, and more
Windows MMC GUI and service that runs on Windows 32/64 bit Virtual or Physical servers
Pricing and Availability
SnapShot Backup for VMware is available now for public preview. Pricing starts at $499 per VMWare server CPU socket. Book your one-on-one WebEx demonstration by phone 1-877-272-8239 or email sales@ardeologic.com
About Ardeo Logic Inc
Ardeo Logic, is located in Toronto, Canada and is a VMware Technology Alliance Partner; provides trusted and innovative data protection products for VMWare platform. Learn more about Ardeo Logic at
www.ArdeoLogic.com
.
###