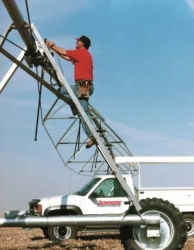 Omaha, NE, March 26, 2010 --(
PR.com
)-- No matter what brand of pivot you use, proper maintenance can extend the life and reliability of your pivot and assure a more productive growing season.
After an especially hard winter in many areas of the country, Rick Provaznik, Director of Aftermarket Support at Lindsay, says this spring is a perfect time to check key pivot components and make any necessary repairs or replacements. Provaznik recommends growers, working with their local Zimmatic dealer, perform the following pivot inspection points:
* Lubrication, such as greasing the pivot point and alignment arms
* Drain water from the gearboxes and check the gearbox and center drive motor oil levels
* Drive train and tires, including tire pressure
* Electrical components, including wires to motors
* Sprinkler package efficiency, such as worn or missing sprinklers
* Tower and span bolts
* Pump, chemigation and fertigation systems
"Inspections of your irrigation system can provide peace of mind, increased uptime and ultimately will reduce the cost of ownership," Provaznik says. "Our Zimmatic dealers offer growers an off-season parts and maintenance program that can help prevent untimely downtime during the critical growing season."
About Lindsay
Lindsay manufactures and markets Zimmatic®, Greenfield™, Stettyn and Perrot center pivot, lateral move and hose reel irrigation systems, and GrowSmart™ controls, all of which are used by farmers to increase or stabilize crop production while conserving water, energy and labor. The award-winning company also produces large-diameter steel tubing and provides outsourced manufacturing and production services for other companies. Watertronics®, a wholly owned Lindsay subsidiary, is a leader in the manufacturing and servicing of agricultural, sports turf, landscape and golf course irrigation pump systems. Additional information can be found at www.zimmatic.com or www.lindsay.com.
###