Local LASIK Surgeon Recognized: 2009 U.S Top 50 Surgeon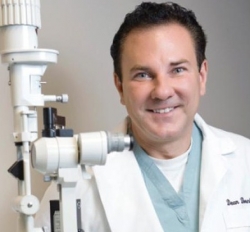 Cary, NC, April 02, 2010 --(
PR.com
)-- Dr. Dean Dornic, a leading LASIK surgeon and Medical Director of Laser Eye Center of Carolina in Cary, NC has been distinguished as a 2009 Top 50 Surgeon in the U.S. by Sightpath Medical. The surgeon was chosen from hundreds of surgeons nationwide.
Sightpath has recognized Dr. Dean Dornic as a leading U.S. LASIK surgeon based on surgical excellence, experience demonstrated through procedural volume, and delivery of exceptional patient care. Dr. Dornic performed over 1,500 refractive procedures last year.
Dr. Dornic is a recognized expert in ophthalmology and specializes in cataract and refractive surgery. His extensive knowledge of a wide-range of ophthalmic conditions ensures his patients that all of their eye care will be personalized.
As Dr. Dornic stated, "I'm honored to be recognized with this award. My phenomenal team has made it possible to provide the best eye care and laser vision correction experience to each and every patient who walks through our doors. We want to give a special thank you to the patients who have trusted us with their vision care. From day one, our first commitment has been to our patients – generation after generation.."
"Our Top 50 Surgeons are leaders in the LASIK industry and general ophthalmology. They know that having the latest training and technology is critical to achieving the best possible eye care results for their communities. We are proud to help support their efforts to provide superior eye care in their communities," said Jim Tiffany, President, Sightpath Medical.
About Dr. Dean Dornic
Dr. Dean Dornic with Eye Specialists of Carolina (dba Laser Eye Center of Carolina) has been serving Wake and Johnston Counties for over 10 years. As an expert in ophthalmology, he has been involved with FDA studies and is Board Certified by the American Board of Ophthalmology. He was the first surgeon in the area to begin using Intralase technology. Dr. Dornic specializes in CustomVue LASIK, the advanced procedure that has been proven to give patients a greater chance of achieving 20/20 vision or better. It is the same technology currently being offered by the United States military and NASA for combat troops, pilots and astronauts. The practice also offers cataract surgery and general ophthalmic care for all ages. For more information on Dr. Dornic and Laser Eye Center of Carolina, visit
www.visionauthorities.com
.
About Sightpath Medical
Sightpath Medical is a leading U.S. provider of surgical services and equipment for cataracts, glaucoma, and refractive procedures. Sightpath Medical has completed over 1,000,000 laser procedures with hundreds of practices. Sightpath Medical is a wholly-owned subsidiary of TLCVision Corporation. For more information, visit www.sightpathmedical.com.
###
Contact
Dr. Dean Dornic
Jill Swartz, Refractive Surgery Coordinator
919-467-9955
www.visionauthorities.com
Contact Name: Jill Swartz
Address: Laser Eye Center of Carolina
3701 NW Cary Pkwy #101
Cary, NC 27513
Phone: 919-467-9955

Contact