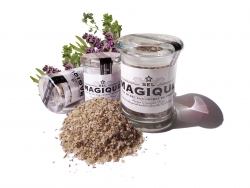 New York, NY, April 07, 2010 --(
PR.com
)-- Salt – the most popular seasoning in the world is getting a powerful infusion of flavor. "Sel Magique Classic Blend" blends pristine, ocean-irrigated fleur de sel with fragrant and flavorful herbes de provence. Sel Magique is now available at select retailers in New York, Los Angeles and nationally at www.selmagique.com
More than a simple mix, Sel Magique combines herbes de provence with hand-harvested fleur de sel while the salt is still moist, actually infusing the herb essence into the salt. This Hydrascent™ process produces a fragrant bouquet and incredible flavor that is unique from any other salt product available today.
"We procure the best seasonal fleur de sel, produced in a centuries old tradition in Guérande, France, to serve as the canvas for Sel Magique. The natural mineral content of the salt already has a rich flavor profile. When we infuse the crystals with our special herbes de provence blend it is transformed into a multifaceted seasoning," said Matt Murphy, creator of the Sel Magique brand. "Everyday cooks and gourmet chefs alike will find that Sel Magique enhances the flavors of just about any dish in the kitchen and at the table."
Sel Magique can be used during cooking or as a finishing salt and is exceptional for grilling, roasting and marinating. The naturally high mineral content and delicate crystalline structure of the fleur de sel and the infusion of savory, thyme, marjoram and lavender make Sel Magique distinctly more flavorful than conventional salts, allowing cooks to use less sodium and create robust flavor. The seasoning is also 100 percent natural.
The delicate flavor of Sel Magique also pairs well with sweet juice mocktails and fruit-based cocktails, adding new complexity and depth to old favorites such as margaritas, lemonades and just about any "tini."
To retain the delicate moisture content of the salt crystals, Sel Magique is packaged in a substantial recyclable pressed-glass jar with a special lid gasket that makes for a beautiful gift. Sel Magique comes in two sizes: a 6-ounce jar for the suggested retail price of $23, and a 2-ounce jar for the suggested retail price of $13.
For recipes using Sel Magique, nutritional information and a full list of retailers please visit www.selmagique.com.
###