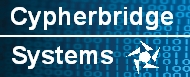 Carlsbad, CA, April 26, 2010 --(
PR.com
)-- Cypherbridge Systems® announces expanded options for the uSSL product family Software Development Kit.
Embedded products including boot loader, firmware and programmable logic are vulnerable to product integrity compromise including reverse engineering, unauthorized use, and remote access and communications risks. The Cypherbridge Systems usecBoot and usecFile secure boot loader and file integrity SDK raises the bar by combining authentication features with advanced keying and encryption in a unified product integrity architecture.
The usecBoot boot loader starts by authenticating the firmware image during MCU initialization using the firmware security header. Multiple firmware images can be present on-chip or on-board. Once the image is authenticated, keying information can be extracted and used to decrypt the firmware image. usecBoot also provides version upgrade and downgrade features for firmware field upgrades and product support. Authentication alerts can be logged for audit trail.
The usecFile security processing utility works in tandem with usecBoot, providing off-line firmware and FPGA bitstream file processing. A multi-layer keying system scrambles the firmware decryption key with a master key so the decrypt key is securely embedded in the firmware image header. This way decryption keys can be distributed inside the field upgrade image. usecFile generated keys sets are protected by a strong pass-phrase, so keys can be safely stored at-rest or emailed independently of firmware images. Finally, the master key is associated with the firmware image to activate the decryption key in the manufacturing line, in the field, or in the product.
This architecture can be used to manage advanced or optional product features using feature unlock key sets. Images and keys can be targeted to specific markets, regions, or customer accounts. These innovative solutions offer improved product integrity, reliability, and product lifecycle return-on-investment.
The Cypherbridge Systems uSSL product family is an ideal solution for a wide variety of security applications including point-of-sale payment systems, machine-to-machine, and industrial control applications where a small-footprint, standards based solution is needed for client authentication, RSA based encryption, in-memory or in-file bulk security, boot loader firmware verification, MCU/FPGA authentication and encryption, trust chip platform authentication, and a range of application specific requirements. uSSL is designed to be easy to configure for applications ranging from classic end-to-end SSL, to single component embedded security.
uSSL is available now for x86, MCU, Cortex-M3, ARM9, and other platforms with and without RTOS. Inquiries to sales@cypherbridge.com.
###