RayBiotech Announces Biomarker Grant Awardees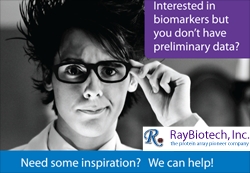 Norcross, GA, May 06, 2010 --(
PR.com
)-- RayBiotech, Inc., the Protein Array Pioneer Company, has announced the winners of its Biomarker Discovery Pilot Grant program. In total, 18 award recipients were chosen for grants of up to $20,000 each, redeemable for RayBiotech products and services. "By offering these grants," states Dr. Ray (Ruopan) Huang, Founder and President of RayBiotech, "we intend to demonstrate that any researcher with a modest research budget can successfully discover and validate disease-related biomarkers using our antibody arrays."
In announcing the award winners, Dr. Huang noted, "We could not have been happier with the response to our grant program. The number and quality of the entries was very high, and the review process was even more selective than most NIH grant competitions." Ultimately, less than 10% of applicants received an award.
"The awardees," explained Dr. Huang, "best presented a clear research plan that set optimistic yet reachable goals, which we felt demonstrated not only significant scientific potential in future biomarker discovery but also aligned with RayBiotech's pioneering vision."
Biomarkers are defined as any measurable differences in physiology that can be correlated with a human disease. Molecular biomarkers include specific genes, metabolites or proteins. Although significant resources have been used to find genetic biomarkers, protein biomarkers are considered to be more desirable for several reasons.
First, discovery of genetic biomarkers by genetic linkage can be extremely difficult. For example, compared to similar screens for protein biomarkers, genome-wide association studies, commonly used to find genes correlated with a disease, require many more samples and more complex mathematical analysis. Second, changes in protein expression more accurately reflect the immediate physiologic status of the patient than do changes in gene expression. Furthermore, the biological activities of protein markers may be affected by biochemical modifications or the presence of auto-antibodies that bind to them. In fact, the presence of these modifiers, which are independent of gene or protein expression levels, may be biomarkers in and of themselves.
The search for biomarkers has become a top priority in biomedical and clinical research, as they could potentially be used for disease screening, diagnosis and prognosis or even for choosing personalized treatment regimens for patients. Biomarkers can also suggest new drug targets, elucidate the mechanisms of drug actions or help in selecting suitable participants for clinical trials.
The use of RayBiotech's antibody arrays for protein biomarker discovery was well-illustrated in a publication that appeared in the November 2007 issue of Nature Medicine. The authors, Sandip Ray et al., used the RayBio® Human Cytokine Antibody Array 1000 to detect 120 different proteins in the blood of Alzheimer's patients and compared the expression patterns to both normal individuals and patients with other types of dementia. Analysis of the results revealed a panel of 18 proteins found in the blood that could successfully differentiate Alzheimer's patients with greater than 90% accuracy. Moreover, the authors demonstrated that the same biomarker panel could potentially be used for early detection of Alzheimer's, years earlier than existing diagnostic methods.
Currently, most biomarker discovery projects employ methods of biochemical separation, such as mass spectrometry or 2D gel electrophoresis, to identify potential protein biomarkers. "While effective at discovering novel protein biomarkers, the traditional methods of biomarker discovery are beyond the reach of most researchers," explained Brett Burkholder, Manager of Marketing and Business Development for RayBiotech. "These projects require specialized equipment, highly trained personnel, large research budgets and many, many years to complete.
After identification of potential biomarkers in a small number of samples in the discovery phase, subsequent studies usually employ antibody-based detection to validate biomarker candidates in a larger population. In most cases, suitable antibodies to novel proteins must be generated, a process that is neither trivial nor its success guaranteed.
Dr. Huang advocates that antibody-based methods of biomarker discovery could accelerate this process tremendously: "When using antibody arrays for biomarker screening, subsequent validation of identified biomarker candidates can proceed immediately using conventional or multiplex quantitative immunoassays, employing the exact same antibodies used to discover them. This method allows for seamless transition from the biomarker discovery phase to validation."
"Collectively, our antibody array, protein array, ELISA and EIA product offerings comprise a versatile and comprehensive toolbox for both antibody-based biomarker discovery and validation," concludes Mr. Burkholder. "We believe that the work of our grant awardees, together with the examples set by Ray, et al., and other research groups, will constitute an innovative, affordable paradigm for biomarker discovery and validation."
A complete list of awardees of RayBiotech's 2010 Biomarker Discovery Pilot Grants is presented below:
Steven J. Ackerman, PhD, of the University of Illinois at Chicago, College of Medicine (USA).
Biomarkers of Eosinophilic Esophagitis Resulting from Food Allergies
Zhe-Sheng (Jason) Chen, MD, PhD, of St. John's University, New York, NY (USA).
Biomarkers of Endometrial Cancer.
Mei-Zhen Cui, PhD, of the University of Tennessee College of Veterinary Medicine, Knoxville (USA).
Biomarkers of Ischemic Stroke
Doug Feinstein, PhD, of the University of Illinois at Chicago (USA).
Biomarkers of Multiple Sclerosis
Pietro Ghezzi, PhD, of the Brighton & Sussex Medical School, Falmer (UK).
Detection of Glutathione-conjugated Cytokines in Immunity
Annette Thomas Hastie, PhD, of Wake Forest University, Winston-Salem, North Carolina (USA).
Biomarkers Linking Obesity and Asthma
Matthew J. Huentelman, PhD, of the Translational Genomics Research Institute, Phoenix, Arizona (USA).
Biomarkers of Autism
Hideaki Ijichi MD, PhD, of the University of Tokyo, Graduate School of Medicine (Japan).
Biomarkers of Pancreatic Cancer
Carrie Kitko, MD, of the University of Michigan, Ann Arbor (USA).
Biomarkers of Graft Versus Host Disease in Blood/Marrow Transplant Patients
Oi Lian Kon, MD, of the National Cancer Centre (Singapore).
Biomarkers of Gastric Cancer
Miloslav Kverka, MD, of the Academy of Sciences of the Czech Republic, Charles
University, Prague (Czech Republic).
Biomarkers of Inflammatory Bowel Disease
Bruce McManus, MD, PhD, of the University of British Columbia - St. Paul's Hospital,
Vancouver (Canada).
Biomarkers of Acute Heart Failure
Joanna Pera, MD, PhD, of the Jagiellonian University Medical College, Krakow (Poland).
Biomarkers of Primary Intracerebral Hemorrhage (PICH, a type of hemorragic stroke)
Olga Vitek, PhD, of Purdue University, West Lafayette, Indiana (USA).
Statistical validation of RayBiotech's G-Series Arrays for Biomarker Discovery
(specifically for Cardiovascular Disease); Development of an Open-source Statistical Software for Analysis of Antibody Array Data
Gary Guishan Xiao, PhD, of Creighton University, Omaha, Nebraska (USA).
Biomarkers of Osteoporosis
Weimin Yang, PhD, of the 1st Affiliated Hospital of Sun Yat-Sen University, Guangzhou (P.R. China).
Biomarkers of Polycystic Ovarian Syndrome
Gee Wan (Oscar) Wong, PhD, of The University of Hong Kong (Hong Kong).
Adipokine Biomarkers of Endometrial Cancer
Jian (Joyce) Wu, of the 3rd Affiliated Hospital of Sun Yat-Sen University, Guangzhou (P.R. China).
Biomarkers Correlating Diabetes Type II and Periodontal Disease
###
Contact
RayBiotech, Inc.
Brett Burkholder
770-729-2992
http://www.raybiotech.com

Contact