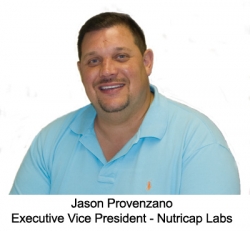 Farmingdale, NY, May 10, 2010 --(
PR.com
)-- Leader of New York-based vitamin and supplement manufacturing company honored by one of the world's leading professional services organizations for his vision, courage, and achievements over the past year.
Jason Provenzano, Executive Vice President of Nutricap Labs, a New York-based
vitamin and supplement manufacturing company
, was named a finalist this morning for Ernst & Young's 2010 Metro New York Entrepreneur of the Year award.
The Ernst & Young Entrepreneur of the Year program is the world's most prestigious business award for entrepreneurs. Founded in 1986, this year-long program is the only global business recognitions program held on 6 continents, in more than 50 countries and over 135 cities. Entrepreneur of the Year honors entrepreneurs whose vision, courage, and achievements have sustained successful growing business ventures.
Among the reasons why Provenzano was recognized as a finalist by Ernst & Young was his ability to create a profitable, one-of-a-kind nutraceutical manufacturing company that offered a multitude of services under one roof, the way he was able to guide his company through a tumultuous global recession to become one of America's fastest-growing companies according to Inc. Magazine, and his generous donations to charities such as Make A Wish, Vitamin Angels, and Anna's House.
"To be named a finalist for this prestigious award is a tremendous honor," said Provenzano. He added, "When I founded Nutricap Labs nearly a decade ago, I knew that the breadth of services we offered our customers would make us a successful and profitable organization. Never in my wildest dreams though did I expect it us to grow at the rate we have. I am extremely proud of this accomplishment and I look forward to enjoying many more years of continued growth."
Provenzano, along with several other entrepreneurs, will be honored at the Metro New York Entrepreneur of the Year awards banquet on Tuesday, June 15th at The Marriott Marquis in New York City. Metro New York finalists are also eligible for the National Entrepreneur of the Year awards held in Palm Springs, California in November.
About Nutricap Labs:
Nutricap Labs
is a full service vitamin supplement manufacturing service. We primarily manufacture nutritional tablets, capsules, powders, liquids and creams, but we also offer label and packaging design services and order fulfillment services to our customers. For information about our full line of nutraceutical manufacturing solutions, visit our website or call 1-800-494-6154 to speak to one of our knowledgeable production advisors.
###