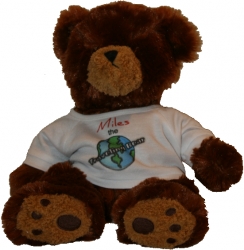 Carrollton, GA, May 10, 2010 --(
PR.com
)-- An ordinary teddy bear named Miles will be making an extraordinary journey around the United States starting Monday, May 10th. His voyage of approximately 8,500 miles, covering nine states, will raise awareness for Bears on Patrol, an organization that provides teddy bears for police departments. The departments use these bears to help comfort children in traumatic or stressful situations. The scheduled stops include:
Southampton, MA
Greensboro, NC
Charlotte, FL
Lakewood, CA
Aurora, IL
Goshen, IN
Washington Court House, OH
Philadelphia, PA
Fernley, NV
"It is really a simple gesture that can make a huge difference,., said Blake Raab, the organization's executive director. "We have already seen several of our bears go to family members of homicide victims in Philadelphia. Our goal with this promotion is to let people know that we are here and that they can help, without spending any money in some cases."
Bears on Patrol is a 501(c)3 organization that was founded in 2009. They can be found online at www.BearsOnPatrol.org. The journey of Miles the Traveling Bear can be tracked at
www.bearsonpatrol.org/miles
###