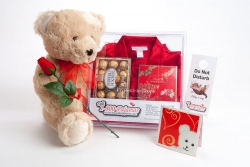 Las Vegas, NV, May 14, 2010 --(
PR.com
)-- A mnemonic brand is a brand that is very easy to remember and synergistic. Like 1-800-CONTACTS with $200 million in annual sales and 1-800-FLOWERS with $970 million in sales 2009. (Internet Retailer 2009.)
"1-800-PAJAMAS is an amazingly powerful name. The name alone tells you instantly what is being sold and where to call or go on-line to order.
Right now the dominate seller of pajamas for holiday gift giving is PajamaGrams with an estimated $100 million in annual sales for 2009.
Here's the advantage that 1-800-PAJAMAS has over PajamaGrams:
If you asked someone how to call PajamaGrams, amazingly most would answer incorrectly 1-800-PAJAMAS.
When one considers that pajamas can be purchased from China for $10 and then resold using a commission-based advertising for up to $150 it is easy to see why 1-800-PAJAMAS brand is worth so much." - Ernie Hemple Partner 1-800-PAJAMAS.
Included in the sale of the 1-800-PAJAMAS brand are the following:
1. The phone number 1-800-PAJAMAS,
2. The URL's 800pajamas.com, 1-800-pajamas.com,
3. Two radio commercials and the 1-800-PAJAMAS logo.
Businesses who wish to bid on the 1-800-PAJAMAS can call 801-854-2670.
###