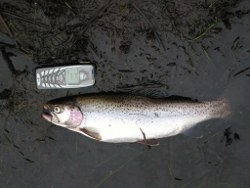 Pescadero, CA, May 21, 2010 --(
PR.com
)-- A group of concerned citizens and conservationists today announced the formation of a new non-profit organization determined to reverse the population decline of native coastal and marine species and enhance and restore their habitat.
The Coastal Alliance for Species Enhancement (CASE) aims to expedite critical restoration projects to preserve the biological diversity of coastal areas while working to ensure continued public enjoyment of these areas.
For its initial project, the organization is pressing for immediate corrective actions in the Pescadero Marsh Natural Preserve and its related watershed, where in recent years, populations of native species have plummeted dramatically and habitat degradation is ongoing. The most visible threat is evidenced by the annual die off locals commonly refer to as the "fish kill." The kill includes sculpin, dungeness crab, the endangered tidewater goby, and the threatened steelhead trout -- to name a few.
Scientific studies have estimated that the steelhead juvenile rearing population in the marsh now hovers at less than 1,000 fish, from a high point of 25,000 measured just 20 years ago.
Another glaring indication of the crisis existing in the Pescadero Marsh is evidenced by the complete loss of a portion of the Butano Creek channel this winter. As a result of the loss of this channel, fish passage into the upstream Butano watershed is presently impossible. CASE is committed to re-establishing a clear channel through Butano Creek and taking whatever corrective actions are necessary to ensure species' survival until passage through Butano Creek is once again feasible.
"The precarious condition of the Pescadero Marsh needs to be corrected immediately," says CASE president Steve Simms. "We are alarmed that poor management practices and lack of oversight have continued for more than a decade. Meanwhile, every year, we lose more coastal species, not just steelhead but a host of other species, some of which are endangered or threatened, all along the watershed."
The Pescadero Marsh is home to multiple species of concern and provides important habitat for foraging, breeding, rearing and transitioning to oceanic conditions. These species include the endangered San Francisco garter snake, the endangered tidewater goby, the threatened steelhead trout, and threatened California red-legged frog. The marsh also serves as an important wintering ground for waterfowl on the Pacific migratory flyway, as well as a prime feeding and reproductive area for coastal raptors and other wildlife.
Through collaboration, negotiation, and if needed, litigation, CASE hopes to drive corrective action to prevent another massive fish die-off in the marsh, an event which typically occurs each winter as anoxic water infiltrates the freshwater lagoon and literally suffocates hundreds of fish and shellfish.
CASE has incorporated as a California non-profit organization and has filed for non-profit status with the Internal Revenue Service. CASE is currently launching its inaugural fundraising effort. A community awareness and fundraising event is planned for midsummer, in conjunction with a Chili Cook-off hosted by the Native Sons of the Golden West, Pebble Beach Parlor, in Pescadero.
More information is available on the organization's website, www.CASEforOurEnvironment.org.
###