Trupanion Explores the Benefits of a No-Deductible Pet Insurance Plan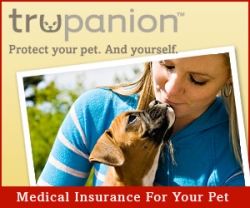 Seattle, WA, May 24, 2010 --(
PR.com
)-- Pet insurance company Trupanion reminds pet owners of the benefits of pet insurance with a zero dollar deductible.
Pet health insurance company Trupanion provides customers with the option of selecting a zero dollar deductible for their
pet insurance
policy. Pet owners who choose this option do not have to pay a deductible for any claimable vet bill. As people become more deliberate in their spending habits, this approach seems to gain appeal: approximately 84% of the claims Trupanion paid over the past week were for pets whose policies had a zero dollar deductible.
Many purchasers of pet insurance choose a zero deductible because they seek to minimize the financial variables of responsible pet ownership. The cost of their monthly premiums is a known factor, so their sole exposure to an unexpected veterinary expense will be ten percent of the actual cost of claimable treatment. (Trupanion covers 90% of the actual vet bill.)
Trupanion is currently the only pet insurance provider in the United States and Canada that offers a zero deductible option. Along with the choice of no deductible, Trupanion allows the pet owner to select any deductible from 50 dollars to 1,000 dollars. A higher deductible reflects a lower monthly premium, and vice versa. By paying slightly higher monthly premiums, pet owners are responsible for a much smaller overall portion of their vet bills.
About Trupanion
Trupanion pet insurance offers cat insurance and
dog insurance
in the United States and Canada. Trupanion is self-underwritten by the American Pet Insurance Company, allowing Trupanion to offer a customizable pet insurance policy with no benefit schedules. Enrolled pets receive $20,000 of lifetime coverage for diagnostic tests, surgeries, and medications if they get sick or are injured, with no annual limit. Trupanion's mission is to protect the cherished bond between pets and their families by ensuring that pets are able to receive optimal veterinary care. For more information about Trupanion, call 800-569-7913 or visit http://www.TrupanionPetInsurance.com
About the North American Pet Health Insurance Association
Trupanion is a founding member of the North American Pet Health Insurance Association (NAPHIA). Founded in 2007, the North American Pet Health Insurance Association is committed to educating and promoting the values and benefits of quality pet health insurance to North American pet owners, the general public, and the veterinary community. As an association, we are committed to high standards and transparency in all of our actions and products. To learn more, visit the North American Pet Health Insurance Association website at http://www.naphia.org
###
Contact
Trupanion
Stacy Kowalchuk
800-569-7913
www.trupanionpetinsurance.com
888-738-7478 ext. 2338

Contact