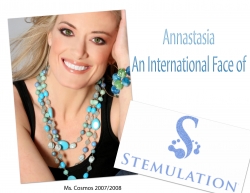 Los Angeles, CA, May 24, 2010 --(
PR.com
)-- After negotiations, Stemulation™ becomes an Official Sponsor of Cosmos International Pageants. Ms. Mason, International Director and Ms. Cosmos 2007/2008 is named an International Face of Stemulation™. She will appear in a series of advertisements for Stemulation™ beginning in late 2010. Annastasia is an International/National cover model and fully endorses the product line.
The Official Cosmos Competition, "Stemulation™ Face of the Year," is announced. Each year, as a part of the International Cosmos Pageant, one lucky International winner will be named "Stemulation™ Face of the Year." Her likeness will be utilized in promo materials for the skincare line, advertisements and on the website.
Stemulation™ is announced as the official skincare of the Cosmos International Pageant. Stemulation™helps guard against the body's natural response to aging and skin damage. As humans age, a body has less of the regenerative powers it had in youth. The visible result is the aging of skin. Stemulation™ has proven to help repair damaged skin, thus giving the face a more youthful appearance. Stemulation™ is applied topically; it is all-natural with no chemical additives.
Technology
So called "anti-aging" treatment products today are based upon a number of scientifically discovered ingredients. The majority of products available today are based upon two technologies – antioxidants and peptides. Stemulation has both in new, improved and proprietary formulations.
The foundational ingredients of the flagship products of Stemulation are based upon advanced stem cell research and the effects of topical application of cell derivatives combined with the discovery of a clinically proven highly concentrated antioxidant that is a core active ingredient of Stemulation Luxury Facial Rejuvenation system.
Regenerative medicine, aka: stem cell therapy has been well proven for its effective healing using adult stem cell transplants in the treatment of cancer, heart disease, acute wound care, MS and many other dreaded diseases. Stem cells in general have great power of rejuvenation by triggering the production of new healthy cells in the human body based upon the particular organ specific cells the stem cell is "encoded" to stimulate. Stem cells are the body's "natural" defense against deterioration. Adult humans produce stem cells that have much to do with the rejuvenation of the cells of the organs. When age 50 is reached, a body has roughly 2% of the stem cells it was born with. As age the aging process progresses, the body reserves the use of what stem cells are left for trauma repairs. Since stem cells repair all forms of deterioration, the lack of available stem cells contributes to the aging of organs… including the skin, the largest organ of the human body.
Scientific and medical research supports the conclusion that stem cell derivatives, combined with peptides and antioxidants result in a highly effective rejuvenation skin care system. Stemulation is a cutting edge leader in the rejuvenation cosmetic sector.
Through 30 years of scientific and clinical development, an unparalleled medical advisory board has created a methodology to produce a unique derivative of stem cell tissue that can be absorbed directly into the skin thus producing the regenerative mechanism desired.
This 100% natural and organic stem cell extract (Stemulation) is pure and safe. The incredibly small size of these molecular components allows them to be readily absorbed into the skin.
The active stem cell ingredients in Stemulation are 100% natural, non-pathogenic, ecologically friendly, and free of all chemical additives. There is no injection and there are no known side effects. The body's response to the application of Stemulation Luxury Rejuvenation System generally takes 2-3 weeks from the beginning of use to early observable response. Consistent use over several months will achieve optimal results.
Stemulation™ has discovered a highly effective natural and organic antioxidant ingredient that has proven through clinical trials to reduce the appearance of fine lines and wrinkles by 47% and improvement of the tightening and firmness of skin tissue by 65% producing and more youthful and vital appearance. Using these ingredients have proven to be a strong competitive advantage over all current competitive products.
For more information on Stemulation™ please visit,
www.stemulation.com
###