Laurence Fuller's Australian TV debut
Laurence Fuller made his Australian TV debut last Sunday starring in the sophisticated art thriller Possession(s). Co-starring Asher Keddie (X-Men Origins; Wolverine) and Max Cullen (Baz Lurhman's Australia), directed by Jim Lounsbury. The 10 minute film aired nation-wide on the ABC May 23rd. After Possession(s) and his West End debut Fuller is being courted by Hollywood;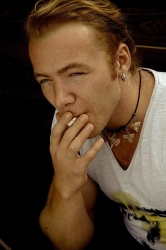 Sydney, Australia, May 26, 2010 --(
PR.com
)-- Laurence Fuller made his Australian TV debut last Sunday starring in the sophisticated art thriller Possession(s). Co-starring Asher Keddie (X-Men Origins; Wolverine) and Max Cullen (Baz Lurhman's Australia), directed by Jim Lounsbury. The 10 minute film aired nation-wide on the ABC May 23rd. After Possession(s) and his West End debut Fuller is being courted by Hollywood.
"A powerful short film that explores the nature of desire, obsession and possession" - Film INK
Possession(s), was shot last year and featured one of the most notable launches in recent memory. To coincide with the film's release a famous Peter Booth artwork, painting (Man With Bandaged Head), was sold off in The Deutscher and Hackett Important Fine Art Auction. The tie-in between the film and the auction comes in the shape of actor Laurence Fuller who used the painting, which he owned, as inspiration for the dark, brooding short. His character Frank, upon seeing the Peter Booth work, becomes embroiled with a sense of obsession; he simply has to own the piece and will do anything to make it so. However, it soon becomes clear that Frank is not the only one consumed by the desire to possess.
See the trailer at
www.laurencefuller.com/Possession.html
Fuller also wrote the script with director Jim Lounsbury and produced with Trilby Beresford. The film was loosely based on Fuller's experience with the commercial side of the art world.
After being shortlisted for Orlando Bloom's replacement in Pirates Of The Caribbean 4 and under consideration for Peter Parker in the Spiderman Re-Boot, Fuller is now working with LA manager Scott Fish of Vital Management Group. Courted as one of the emerging stars in Hollywood and across the Atlantic Fuller eyes up-coming films; "We've been talking about The Hobbit."
"Laurence Fuller shines in the lead role and it is easy to see why he is a much sought after young actor. Having attended Bristol Old Vic Theatre School and the Method School of acting in the UK, Fuller has put together an impressive acting CV in both theatre and in short films. As well as acclaimed stage performances in the likes of Madness in Valencia, Fuller has also created his own film company Oil and is truly making a name for himself across the world – he has, to date, worked in three separate continents. He is hoping to soon add a fourth with work in the United States." - Kieron Casey, full interview at Reel Loop @ http://blog.reelloop.com/3933/news/interview-possesions-star-laurence-fuller/
###
Contact
OIL Films
Lisa Santos
+44(0)2072429300
http://www.laurencefuller.com

Contact