World-Link Communications Earns ISO 9001:2008 Certification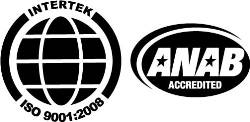 Framingham, MA, May 27, 2010 --(
PR.com
)--
World-Link Communications
today announces that it has received ISO 9001:2008 Quality Management certification.
World-Link is committed to quality process management and to delivering reliable and innovative maritime communications services. The Company has established a measurable approach when developing, implementing and continuously improving the effectiveness of their products and services, while enhancing customer satisfaction and meeting customer requirements.
Their latest maritime broadband solution,
ShipSat
, is an example of World-Link's commitment to reliability, quality and affordability of their services.
Intertek, the leading provider of quality and safety solutions is the registrar that will assess, for the next three years, World-Link's performance against their quality objectives.
"With a reputation for excellence, we set high standards for our professional team and our technologies and customize our products and services to meet customer's specific satellite communications needs," said World-Link President, Asad Salameh.
About World-Link Communications
World-Link Communications is an award-winning provider of customizable, maritime satellite communications solutions. The Company, founded in 1989, is based in Framingham, Massachusetts and has offices around the world.
ISO 9001:2008 certified and serving more than 800 hundred ships, the organization delivers maritime satellite services combining proprietary acceleration, compression and network optimization technologies that have won the trust of ship owners and managers worldwide. The company recently achieved the Gold Service Provider status in the Inmarsat's mobile satellite operators' new accreditation scheme.
World-Link Communications is committed to improving maritime satellite communications services while meeting their customers' need for faster, more reliable and cost effective services.
###
Contact
World-Link Communications, Inc.
Lucia Russo, Marketing Manager
508-370-7778 X 222
www.wlnet.com

Contact