4Love Releases Holiday CD "Christmas Celebration" and Blazes Radio Airwaves with Debut Single "Tell It"
Urban contemporary gospel group 4Love released their holiday CD "Christmas Celebration" and is already blazing the airwaves with airplay on more than 200 radio stations nationwide.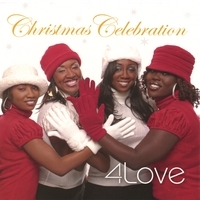 Virginia Beach, VA, November 29, 2006 --(
PR.com
)-- The harmonious, multi-layered sounds of urban contemporary gospel group, 4Love, is enchanting listeners everywhere this holiday season with "Tell It," the debut single from their freshman CD "Christmas Celebration." "Tell It" is 4Love's new, upbeat version of the popular Christmas spiritual, "Go Tell It on the Mountain." With airplay already on over 200 radio stations nationwide, 4Love's Christmas offering on SkyCity Records is a strong debut for four young women just beginning their professional music careers.
Kimera Lattimore of Buffalo, New York, Y'anni Crawley of Washington, D.C. and Tiffany Nealy and Ahisa Henry both of the Tidewater area of Virginia, skillfully collaborate to create the unique sound of 4Love produced by Gene Peoples, President/CEO of Virginia-based SkyCity Records. Peoples conducted various auditions across the United States, literally handpicking each member of 4Love. "It was a tedious process," says Peoples, "but that's what you have to do to get the kind of talent and chemistry we have with these young ladies." Y'anni's soulful voicing compliments Tiffany's defined melodic background vocals and Ahisa's jazzy smooth tones are all colored by Kimera's strong churchy take it home style.
Embracing the sound of 4Love, Jerry Smith, Radio One's national operations manager of its gospel properties, recently added "Tell It" to his stations' rotation saying that "4Love's Christmas CD sounds great! The girls did a great job." Other programmers like Doc Christian of Norfolk, Virginia's #1 Arbitron-ranked urban station WOWI-FM says, "They (4Love) are a force to be dealt with. Their voices are too solid and pure to not be heard from." Avretra Jones, President of the North Carolina Gospel Announcers Guild says 4Love has an "awesome vocal ability and will soar to the top."
In addition to numerous adds from individual stations, 4Love's Christmas project is also in rotation on national satellite-delivered networks including Rejoice Network and Sheridan Gospel Network. SGN's national music Director, Ace Alexander, who recently added "Tell It" to his network's playlist says, "With their unique blend of harmony, 4Love is fresh, talented and vocally on point."
"Christmas Celebration" is in stores now and is also available at www.fourlove.net. For more information, contact Louise M. Moore at Louise@LTLentertainment.com.
###
Contact
Larger Than Life Entertainment, LLC
Louise M. Moore
770-895-5331

Contact