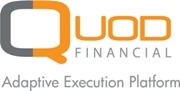 Singapore, Singapore, June 07, 2010 --(
PR.com
)-- Quod Financial, a global provider of adaptive trading execution technology, today announced it has teamed up with Catena Technologies to help the trading community take advantage of increasing liquidity fragmentation in the Asia Pacific region.
The growth of trading in the Asia Pacific markets combined with deregulation, cross-border trading and market fragmentation, has led to a notable increase in demand for smart order routing. Quod Financial's mature smart order routing technology is already being deployed by financial institutions, taking advantage of liquidity fragmentation in the European and US markets. Quod Financial has taken the lead on this opportunity through its partnership with Singapore-based Catena Technologies.
Catena Technologies, which focuses on implementing cutting-edge technology solutions in the financial services industry, will provide sales, consulting, and support services for Quod Financials' products across the Asia Pacific region. Quod Financial's Adaptive Execution Platform (AEP) with the Adaptive Smart Order Router (ASOR) application enables traders to take advantage of liquidity in multiple trading venues – such as exchanges and dark pools – minimising execution costs, increasing hit ratios and ultimately achieving Best Execution.
Ali Pichvai, CEO Quod Financial said "Both Buy and Sell-Side organisations in Asia Pacific want to take advantage of the increasing liquidity fragmentation to gain a competitive advantage. Quod Financial's multi-asset Adaptive Smart Order Router (ASOR) enables these organisations to accelerate their search for liquidity, increase hit ratios and reduce trading costs. The partnership with Catena Technologies provides a way for us to quickly deliver smart order routing solutions to Asia Pacific-based customers."
"We see major benefits from combining Catena's knowledge of market practices in the region and Quod Financial's proven technology," added Randall Duran, CEO Catena Technologies. "Together, we will be well positioned to help our customers take advantage of ongoing liquidity fragmentation in the Asian markets, which is accelerating as new execution venues come on line and trading volumes increase. The ability to rapidly deploy and customise Quod Financial's products will reduce customers' time to market, providing a major competitive advantage."
About Quod Financial
Quod Financial delivers multi-asset and cross-asset adaptive execution technology into the financial trading community. Existing sell-side implementations of its non-disruptive technology are testament to its responsiveness to the rapidly changing trading landscape. The ability to deliver high ROI and low TCO while retaining a passion for people is enabling institutions to leverage existing investments, enable innovation and acquire and maintain more customers. Quod Financials' AEP can be deployed on a modular basis and scale to address future needs whilst embracing an organisations existing infrastructure – its applications support a best approach to discrete trading environments. Quod Financial's vision is to help drive organisations to change the way they execute trades electronically by using adaptive trading technologies across the whole trade lifecycle.
Quod Financial is headquartered in London with offices in Paris and New York. For more information, please visit http://www.quodfinancial.com
About Catena Technologies
Catena Technologies Pte Ltd specialises architecture, design, and delivery of advanced technology solutions for the financial services industry. Based in Singapore, the company has worked with customers across the Asia Pacific region including Japan, Hong Kong, Australia, Singapore, and China. Catena Technologies combines in-depth knowledge of the financial markets with expertise in applying cutting-edge technologies.
For more information about the products and services that Catena Technologies provides, please visit
http://catena-technologies.com
Media contacts
Quod Financial
Haidee Brean
+44 (0)20 7330 0804
haidee.brean@quodfinancial.com
Catena Technologies
Mein Wong
+65-6100-0881
quodfin@catena-technologies.com
###