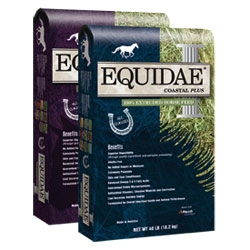 San Luis Obispo, CA, June 11, 2010 --(
PR.com
)-- Canidae Pet Foods, Inc. (www.canidae.com), a manufacturer of all natural, holistic dog and cat foods that are fed and recommended by thousands of certified breeders and rescue organizations, will sponsor the 12th annual Western States Horse Expo in Sacramento, California this June 11-13, and unveil the new Equidae® line of 100% extruded horse feed at the event.
In addition to being a sponsor of the expo's new Dog Pavilion and the Western States Horse Expo itself, Canidae is taking the opportunity to provide the public with a "sneak preview" of the new extruded equine food named Equidae®. The Equidae line of horse feed will be guaranteed and marketed by Canidae Pet Foods, a trusted brand for over 14 years, and is a 100% extruded horse feed designed for optimal nutrition and superior digestibility for all classes and age groups of horse.
The formulations Equidae Alfalfa Plus and Equidae Coastal Plus both contain only the most wholesome ingredients designed to provide optimum levels of energy for the maintenance and long term health of horses. Unlike textured feeds, Equidae is uniquely formulated using the extrusion process. This allows both Equidae formulas to offer a nutritionally balanced equine diet that is the superior grain alternative.
The advanced steam extrusion processing, together with the highest quality ingredients provide cool, consistent calories. Extrusion expands the volume of the feed which in turn increases the nutrient availability providing a readily available source of energy while slowing down the eating process to reduce the risk of over-consumption. Dust is also reduced by the extrusion process, and the shelf life of the feed is increased. Although extruded feeds take longer to manufacture than other types of feed, they provide the ultimate in nutritional quality.
Whether a horse needs 15,000 calories or 35,000 calories per day, one can safely achieve those numbers utilizing good quality forage or pasture combined with either Equidae formula. Both formulas have no added sugars or molasses, are extremely palatable, contain skin and coat conditioners, and provide a scientifically formulated balance of Omega-3 to Omega-6 fatty acids. Both formulas also feature guaranteed viable microorganisms, antioxidant vitamins, chelated minerals, and electrolytes. The Coastal Plus formulation is 100% alfalfa free.
Mike DeNunzio, from the Canidae Pet Foods Small and Large Animal Division, will be on hand at the Equidae Horse Feed booth to answer questions and discuss the benefits and availability of the new Equidae formulations. The Equidae line of horse feed will make its official debut at the AllTech FEI World Equestrian Games in Kentucky this September and October.
For more information about Equidae Extruded Horse Feed please visit
equidaefeed.com
###