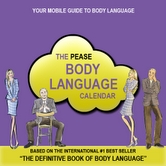 Sydney, Australia, June 15, 2010 --(
PR.com
)-- Available for the first time for immediate download to your iPhone and iPod Touch, Allan and Barbara Pease's innovative methods of reading male and female body language signals can be at your fingertips wherever you go with this body language app calendar.
The iPhone app is designed to give users confidence and control in any face-to-face encounter, from finding a new partner to excelling in a job interview. It delivers bite-size body language tips in an easy-to-digest calendar format; designed to make users more effective in business and personal relationships by having an understanding of social dynamics and a good command of interpersonal skills.
The new iPhone app provides daily tips for interpreting body language signals and is aimed at giving users confidence in all daily interactions. Acting as a reference guide to interpreting body language signals, it serves up a fresh one-liner each day, which can be expanded to read Allan and Barbara Pease's entertaining full-length insight on body language.
iPhone app users are supplied with an archive menu on the body language app calendar to allow for easy referral back to earlier body language signals and learnings.
The body language app is available on iTunes at a special introductory price of just USD$0.99.
Further information is available on the Allan Pease Body Language iPhone App website: http://www.peasebodylanguagecal.com/
###