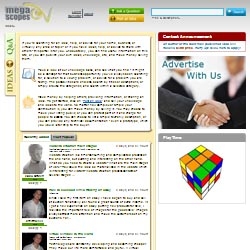 New York, NY, June 26, 2010 --(
PR.com
)-- Selling or promoting an idea can be a difficult, time and money consuming process, especially if it's done it privately. Knocking the doors of potential investors and decision-makers, and getting rejections can be frustrating. However, there are other ways and the following endeavor is a good example.
There is a new web portal - http://www.megascopes.com, which allows users to publish their ideas and decide what part of them to share with the public and what part to hide and display on the pay-per-view basis. This is a quickly evolving project with a good potential to become a central point of the ideas' exchange. Contributors are in control of how to present their ideas and potentially can start making money immediately. Investors, in their turn, see the statistic information for contributors that undoubtedly will help them to make a decision, whether they want to buy just one view or send a business proposition to the idea publisher. The target goal is to make connection between one and another. Even talking about general audience, the website presents a great value, providing many free ideas.
The site consists of two sections and the second one is Q&A which in pair with Ideas gives a possibility to solve virtually any problem. If a solution is not found in the Ideas section, one can publish a question which will be visible to the whole community and be reviewed by the experts, working for the company. Posting answers follows the same pattern as posting ideas. They can be viewed for free or on the pay-per-view basis, here, giving a good opportunity to experts. In both sections users can publish text content, pictures, video (with YouTube account), and arbitrary files. For more information, visit
http://www.megascopes.com
.
###