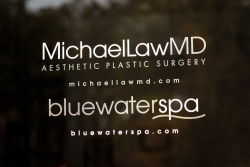 Raleigh, NC, December 09, 2006 --(
PR.com
)-- Raleigh Day Spa Offers Instant Holiday Gift Certificates Online
http://www.bluewaterspa.com/raleigh-day-spa-gift.html .
Blue Water Spa of Raleigh has been named Best Medical Spa in America http://www.bluewaterspa.com/media.html and best spa in Raleigh. Gift Certificates can be purchased at the spa, over the phone or online for delivery overnight, or even instant delivery via email for last minute shoppers. Blue Water Spa Gift cards are available for any service or in any denomination.
Day Spa gift certificates are becoming more and more popular for men and women and are right at the top of Holiday or Christmas wish lists. Day Spas offer stress-relief, pampering, and results. Spa gift certificates are a wonderful way to show friends, family, employees, or the one you love, how much you care.
When selecting a spa gift certificate at any spa, consider the following:
Visiting the web site for a spa can give you an idea of the spa's environment, their experience, and philosophy. The spa experience begins when a guest enters the door. By taking a virtual tour, you can get an idea of what the experience will be.
Important Questions to Ask:
Ask if the therapists have a sales quota. Sadly, some spas require massage therapists and aestheticians (facialists) to have sales quotas. This can mean high pressure to clients to add on extra services and to purchase products.
Be sure to ask the spa's policy on aestheticians (facialists) leaving the room during a treatment. The therapist should be in the room at all times, consistently delivering pampering, relaxation, and results. A client who is left alone can feel forgotten and uneasy and certainly they are not getting the best treatment possible.
Adding some quality products to a gift certificate can enhance the spa experience. Luxurious candles, skin care products, rich soaps, shower gels, and silky massage creams can make for a romantic spa experience for a couple to share at home.
Blue Water Spa is owned and operated by board-certified plastic surgeon Dr. Michael Law http://www.michaellawmd.com/raleigh-plastic-surgeon.html and his wife Kile. Blue Water Spa was named The Best Medical Spa in America by American Spa Magazine in their 2006 Professionals Choice Awards and was additionally voted The Best Medical Spa in America in Skin Inc. Magazine's first annual Best of the Best Awards. The spa has been named and a Five-Star Beauty Destination by New Beauty Magazine. Blue Water Spa was recognized as one of the Best Places to Work by the Triangle Business Journal in 2005 and was recognized as the #1 Best Place to Work in the Triangle 2006 by TBJ.
http://triangle.bizjournals.com/triangle/stories/2006/09/18/focus1.html
For more information, go to http://www.bluewaterspa.com
###