WrenchMints, Inc. Sold in Private Equity Sale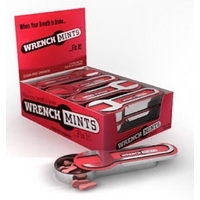 Chicago, IL, July 02, 2010 --(
PR.com
)-- WrenchMints, Inc., the Los Angeles based manufacturer of innovative wrench-shaped breath mints, announced today the closing of the sale of 100% of its stock to Anthony Priore, a 30-year marketing veteran, internet and ecommerce leader for an undisclosed amount. Mr. Priore will take over WrenchMints as CEO and will operate the company out of the Chicago area.
WrenchMints, Inc. was started in 2007 by two entrepreneurs who built the company from concept to market achieving solid distribution at retail establishments such as Ace Hardware Corporation and True Value Company. Mr. Priore will leverage his experience to further accelerate retail acceptance and generate awareness of the product among consumers.
Mr. Priore left a successful career in corporate America to focus on being an entrepreneur and business owner. WrenchMints is his first company. "WrenchMints is a diamond in the rough," said Mr. Priore. "The original founders have created an extraordinary company and a highly profitable platform for growth. I am thrilled to be able to draw upon my experience to take the company to the next level. I believe WrenchMints has amazing potential to become an enduring product franchise."
In a multi-billion dollar marketplace driven by impulse purchase, multiple channels of distribution and a virtually ubiquitous consumer base, WrenchMints has a unique opportunity to capitalize on its innovative product design and positioning to build product trial and sustain repeat purchase.
About WrenchMints, Inc
WrenchMints, Inc manufactures and markets a line of breath mints under the same name. The company's innovative patented wrench-shaped mints and tin containers are available in four flavors: peppermint, cinnamon, spearmint and candy cane. The products, which retail for approximately $1.99, are sold at selected retail establishments in the U.S. and overseas. WrenchMints are an innovative and convenient way to "fix your breath." The clever, hip and tasty mints are strong yet not overpowering, while the containers are portable and fun to use. For more information visit
www.wrenchmints.com.
About Anthony Priore
Mr. Priore is a recognized industry leader in marketing and internet/e-commerce with over 30 years of experience. He has held executive positions with some of the nation's leading and most innovative companies such as Peapod, Leo Burnett, Citibank, uBid.com, Yesmail, Experian, DDB, and Rewards Network (formerly iDine). He assisted in the successful launch of two start-up companies and the IPO's of three.
Mr. Priore is also the co-author of the book, Email Marketing: Using Email to Reach Your Target Audience & Build Customer Relationships published by John Wiley & Sons, Inc. He served on the advisory board of The DMA's Association of Interactive Media (AIM) as well as two terms on the board of the Chicago Association of Direct Marketing (CADM). He has given numerous speeches and published white papers on a variety of professional topics throughout his career. In 2000, he was recognized as one the "I.20" top Internet marketers in the U.S. Mr. Priore is a native Chicagoan who earned both his Bachelors and Masters Degrees from Northwestern University in Evanston, Illinois.
###
Contact
WrenchMints, Inc.
Tony Priore
847-681-9169
wrenchmints.com

Contact