Teresa Heinz Kerry Featured in a Funny and Hopeful Film, "My Tale of Two Cities," Premiering at Boston Museum of Fine Arts July 29-Aug. 5th
On July 29, the Boston Museum of Fine Arts presents a timely new film, My Tale of Two Cities, a funny and heartfelt tale of coming home again and of people and cities reinventing themselves for a new age. The film's director, St. Elmo's Fire screenwriter Carl Kurlander, will attend screenings on opening night July 29th, and a special screening on July 30th with a "Won't You Be My Neighbor?" sing-a-long celebrating the film's theme that each of us can make a difference where we live.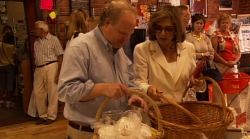 Boston, MA, July 23, 2010 --(
PR.com
)-- "Carl Kurlander's movie is the wry, funny tale of the fulfillment he found moving back home. A cross between Woody Allen and Fred Rogers, he reminds us that our cities are the real "Real America," the creative, connected places in which we can best renew ourselves, our country, and our hope for all humanity." -- Howard Fineman, Newsweek/MSNBC
"A movie that is timely, moving, and - above all - entertaining. You can't get an entire city into therapy - but this film is the next best thing." -- Mitch Teich, Milwaukee Public Radio
1905 Productions' "My Tale of Two Cities," a funny and poignant comeback story which has been playing selected cities this summer, comes to the Boston Museum of Fine Arts July 29-Aug. 1&5th.
The film's director, "St. Elmo's Fire" screenwriter and "Saved By the Bell" writer/producer Carl Kurlander, will attend screenings on July 29th and July 30th. Following the screenings, beloved icon "Mr. McFeely" (David Newell), the delivery man from "Mr. Rogers' Neighborhood" will lead the audience in a "Won't You Be My Neighbor?" sing-along as is done in the film with groups in Times Square, Beverly Hills, and Pittsburgh.
The film features one of Fred Rogers' real life neighbors, Teresa Heinz Kerry, who also has Boston roots. After a funny sequence of Ms. Kerry cheese shopping, she engages in a thoughtful conversation about how communities can transcend their challenges by reminding us that "a problem is only an solution waiting to be found" and that "we need an infusion of dreamers... because dreaming is contagious."
"My Tale of Two Cities" has received national attention in USA Today, The Washington Post, and on the PBS News Hour. On March 23, 2010, My Tale of Two Cities was the first film ever to screen at the new Capitol Hill Visitor's Center in Washington, D.C. where Congressman Mike Doyle called the film "a comeback story which can inspire cities around the country."
Showtimes are July 29th 5:30 p.m., July 30th 7:45 p.m., July 31st, 5 p.m. August 1st 11 a.m. and August 5th 5:00 p.m.. Mr. Kurlander and "Mr. McFeely" will attend the Thursday, July 29th screening, and will be joined by Mr. McFeely for the screenings on Friday July 30th and Saturday July 31st. Advanced tickets can be purchased at http://www.mfa.org/ Seating is limited.
It next plays the Portland Museum of Art August 7&8.
About "My Tale of Two Cities:"
My Tale of Two Cities is told through the eyes of screenwriter Carl Kurlander, who was living in Hollywood when he received an offer to go back to his hometown and teach at the University of Pittsburgh. After his wife Natalie pointed out that if they continued to live above the Sunset Strip, their one year old daughter's habit of dancing naked on coffee tables might become an acceptable profession, Carl moved his family back to his hometown-- the real life "Mister Rogers' Neighborhood"-- in search of a more meaningful life. This journey led the Kurlanders to being guests on The Oprah Winfrey Show on a program about people who had changed their lives, but just after they told Oprah how happy they were, Fred Rogers died, and the city of Pittsburgh went bankrupt.
With both himself and his hometown in a mid-life crisis, Kurlander set out on a Don Quixote quest to make a film to help the city he grew up in. Armed with a cranky cameraman, funded by his dermatologist, (a scene actually captured in the Film) and often battling his wife, who longs to return to the sunny West Coast, Carl goes off on an adventure.
He goes cheese shopping with Teresa Heinz Kerry before talking about how cities can revive themselves, plays catch with Steelers great Franco Harris, endures the wrath of comic Louie Anderson, chats with "Mr. McFeely" of Mr. Rogers Neighborhood, which was produced in Pittsburgh for 40 years, visits with Andy Warhol's nephew, who owns a local junkyard, goes fishing with the Mayor, and asks how this once great industrial giant, which built America with its steel, conquered polio, and invented everything from aluminum to the Big Mac, can reinvent itself for a new age.
In so doing, with this funny, quirky, personal approach, Kurlander and his crew manage to document one of the new millennium's most remarkable urban comebacks (not unlike that which Boston underwent in the 60's and 70's.) Having faced bankruptcy in 2003, Pittsburgh hosted the world's G-20 Economic Summit in 2009 where it was called "a model for the future" and in 2010 was named by Forbes Magazine "America's Most Livable City." This feel-good movie is inspiring at a time when both people and cities around this country are being challenged to coming to terms with their pasts in order to redefine who they are.
The film is being distributed by Panorama Entertainment. Having delighted audiences at film festivals around the country and at special screenings for the International MENSA society and the keynote film for the International Downtown Associations Convention, My Tale of Two Cities is playing selected cities this summer including Harrisburg, New Haven, Cleveland, Boston, and Portland, Maine. For further information, visit www.mytaleoftwocities.com
###
Contact
My Tale of Two Cities
Stuart Strutin
914-937-1603,
www.mytaleoftwocities.com
Carl Kurlander, Director
310-386-0059, mytaleoftwocities@gmail.com

Contact