Julia Chicken's Unique, Personalized, and Romantic Gift Idea
Dr. Julia Chicken, famous for her very witty advice column and funny cartoons, has put on a new hat (or plume) as romanticist and poet.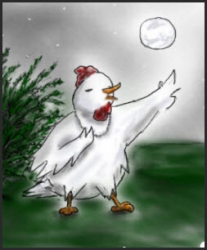 Drumore, PA, August 02, 2010 --(
PR.com
)-- Dr. Julia Chicken
(www.advice-with-dr-julia.com)
says that she is "rivaled by none in the romance and poetry department, save maybe by Cyrano de Bergerac." So then, it comes as no surprise that she would extend her wit and services to young lovers around the world.
Cyrano de Chicken takes some basic information provided by the lovestruck and tongue-tied concerning their true love and puts together a unique, personalized, and very romantic gift.
This unique gift idea comes in the form of a hilarious love poem and packaged nicely in a PDF for easy delivery and distribution.
Dr. Julia's Funny Love Poems
are smart and witty, but what makes them so endearing is their personal nature - the inside jokes, the pet peeves, the "quirks" that are exposed throughout the poem.
There funny poems make wonderful gifts for almost any situation. But they can also be a means of expression. From asking a special someone out for a first date to a Happy Fiftieth Wedding Anniversary, to simply reminding someone that they're loved... despite their flaws, which Dr. Julia is sure to point out.
Here's what others have said...
- "Hilarious!! Thank you, Dr. Julia - we laughed and laughed! You are quite a poet!" - Holly and Steve
-"Dr Julia, this was hilarious and spot on!
I am right now wiping tears of silent laughter from my eyes (hubby shares a study with me) and hoping I can keep the giggles suppressed for long enough to give him the poem as his birthday present :-)
Thank you, thank you, thank you! You are brilliant! mmm, methinks someone needs to write a poem for you :-)" - Tracey
-"Oh, my chicken!
Wish there was a 10 star rating, I laughed like crazy, this is the best thing ever. Thanks, Dr. Julia for helping me to express my love to my hubby!!!" - Brankica and Jim
* More information and actual commissioned pieces are available for viewing on Dr. Julia's website in the Funny Poems section.
###
Contact
Advice With Dr. Julia Chicken
Lora Rublesky
717-548-0224
www.advice-with-dr-julia.com

Contact