Emtrace Launches New iPad App for Creating and Sharing eCards
Moxier Collage Simplifies eCard Creation and Enables Sharing via Facebook, Twitter, and Email.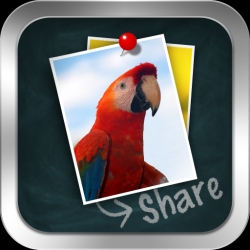 San Jose, CA, August 19, 2010 --(
PR.com
)-- Emtrace Technologies, Inc., a Smartphone solutions provider, today announced the launch of Moxier Collage, a new iPad™ application for creating and sharing electronic cards. Moxier Collage enables users to design stunning cards, collages, storyboards, idea boards, and much more. Offering eCard sharing via Email, Facebook, and Twitter—Moxier Collage simplifies the creative process and enhances the distribution of ideas and memories.
Moxier Collage has a wide variety of useful applications. For eCard creation, Moxier Collage helps users design, personalize, and share professional looking eCards quickly and effortlessly. For travel photos, consumers simply add pictures to the canvas, personalize the collage by selecting from a collection of available design elements, then send it off to friends and loved ones, or share it via Twitter and Facebook. For storyboarding and brainstorming, Moxier Collage allows consumers to smoothly arrange pictures, sticky notes, and ideas, and then email them to coworkers and collaborators.
Leveraging the iPad's dynamic touch-screen interface, Moxier Collage makes designing collages fun and easy. Consumers start by selecting a background from a list of templates or add their own. By simply tapping a few icons, consumers can stylize their creations and add photos, sticky notes, clipart, as well as text. Consumers can quickly pinch objects to resize them on the canvas; and by employing only a slight finger drag, users can rotate and move objects with ease. Moxier Collage also enables users to add photo frames to pictures and adjust photo color, brightness, and contrast. Once a design is created, users can instantly share creations, photos, and ideas.
"Moxier Collage is a platform to stimulate creativity, enhance collaboration, and facilitate the sharing of photos and eCards with friends," said Mr. Naekwon Jung, CEO of Emtrace Technologies. "By adding practical features and an interactive User Interface, we've taken the pain out of eCard creation. The average user will be up to speed in no time at all and be very pleased with how fun and easy it is to use."
Moxier Collage Key Features
- Create collages, eCards, storyboards, picture boards, wallpaper, memories, and much more.
- Stylize by adding pictures, frames, clipart, text, speech bubbles, sticky notes, and headings.
- Quickly and easily resize, move, rotate, and regroup images and text.
- Adjust photo color, brightness, and contrast.
- Select from a list of backgrounds or add your own.
- Supports both landscape and portrait modes.
- Share with friends using Facebook, Twitter, and Email.
- Fast, fun, and oh so easy.
Moxier Collage is currently available at the iTunes' App Store. For more information about Moxier branded products, please visit moxier.com.
Apple Wireless Keyboard Giveaway
In conjunction with this Moxier Collage launch, Emtrace is giving away ten free Apple Wireless Keyboards, which are great for iPads, laptops, and computers. Moxier Collage is currently available at a special introductory price of $0.99 per download for the duration of the giveaway. Visit moxier.com for more details. Contest ends September 1st, 2010. Must be a U.S. resident and 18 years of age or older to enter. Void where prohibited.
Additional Moxier Products
Moxier Mail is the world's first Exchange Active-Sync® push email client for Android Smartphones. Featuring Contacts, Calendars, Tasks, Attachments, Folders, and Global Address List (GAL) support; Moxier Mail is currently available at the Android Market. To learn more about Moxier Mail, please visit www.moxier.com/mail.
Moxier Wallet is a customizable and secure personal information vault for managing and storing important frequently used information such as financial data, prescription and health info, vehicle and product data, as well as website logins and passwords. Moxier Wallet allows consumers to encrypt sensitive data and sync to PCs, Macs, iPhones, iPod touches, and now Android Smartphones. To learn more about Moxier Wallet, please visit www.moxier.com/wallet.
Moxier World is a handy global weather application featuring five-day weather forecasts, current weather conditions, live webcams, a Wikipedia® link for detailed city information, and a virtually unlimited favorites' list supported by a huge city database. Moxier World is currently available at both the Android Market and the
iTunes' App Store
.
About Emtrace
Moxier is a dedicated mobile apps division of Emtrace Technologies. Since the year 2000, Emtrace has been developing robust software for leading technology companies. With offices in the U.S. and Korea, rich experience delivering Smartphone as well as mobile O.S. platform solutions (iPhone, Android, Windows Mobile, Palm O.S., and Linux), and a suite of user-friendly Smartphone applications (Moxier Collage, Moxier Mail, Moxier Wallet, and Moxier World)—Emtrace is well positioned to meet the software development needs of today's technology-savvy organizations. For more information about Emtrace, please visit emtrace.com.
###
App Store, iPad, iPhone, iPod touch, iTunes, and Mac are registered trademarks of Apple, Inc. Apple, Inc. shares no affiliations with Emtrace Technologies or Moxier and does not endorse either company or the Wireless Keyboard giveaway. Android and Android Market are registered trademarks of Google. Palm and Palm O.S. are registered trademarks of Palm, Inc. and HP. Exchange ActiveSync, Windows, and Windows Mobile are registered trademarks of Microsoft. Blackberry is a registered trademark of Research in Motion. Wikipedia is a registered trademark of the not-for-profit Wikimedia Foundation.
Source: Emtrace Technologies, Inc.
Product Web Page: http://www.moxier.com/collage
Video: http://www.youtube.com/watch?v=M-XQHgOvJPk
Facebook: http://www.facebook.com/moxierapps
Twitter: http://twitter.com/moxierapps
YouTube: http://www.youtube.com/moxierapps
Contact
Emtrace Technologies
Stuart Schuman
408-519-5797
www.moxier.com

Contact