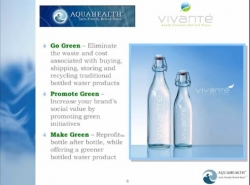 Wrentham, MA, August 27, 2010 --(
PR.com
)-- For those seeking an Eco-Friendly alternative to traditional bottled water, the solution may be found in this short Presentation.
AquaHealth, Inc., the North American leader for Sustainable Bottled Water Solutions is dedicated to bringing customers 'Greener' bottled water. AquaHealth's 'Go Green, Promote Green, & Make Green' initiative enables customers to eliminate the waste and cost associated with buying, shipping, storing and recycling one-time use bottled water products. By backing an Earth-Friendly bottled water program, the social value of each client's brand is promoted, all while increasing revenue, 'Reprofiting,' bottle after bottle.
AquaHealth customizes Turn-Key, Earth Friendly Programs to Restaurants, Hospitality, Corporations and Educational Institutions. AquaHealth provides the most diverse and powerful compliment of water brands and bottle options in the industry. Clients may choose from two signature brands, Vivante, and AquaHealth. The Vivante brand is positioned for fine dining or ethnic-inspired restaurants, and the AquaHealth brand fits perfectly in casual dining, banquets and executive meeting rooms.
AquaHealth offers the Clearfill 530 and 550 Sustainable Bottled Water Programs specifically to Restaurants, Executive Meeting Rooms and other Catering Events. Hydration Stations provide solutions for In-Room Dining, Retail Outlets and other Guest Water Services. A Speed Filler Program may be used in any number of hotel settings, allowing for fast and efficient service to hundreds of guests'. Maximum flexibility is created for clients using AquaHealth's Portable Cart, which delivers cold, purified water to guests at breakout hallway, lobby and poolside functions.
AquaHealth's programs are tailored to meet the needs of the customer. With the most highly trained, experienced and motivated customer service and field service support teams in the industry; AquaHealth demonstrates an unwavering commitment to customer satisfaction.
With AquaHealth's in-house delivery system, and proprietary and customizable filtration, patrons enjoy pure, great tasting water with near zero waste. For those seeking to reduce their carbon footprint, AquaHealth Premium Water is the Eco-Conscious choice.
Click To Watch AquaHealth's Sustainable Bottled Water Video Presentation
For more information visit AquaHealth's website,
www.aquahealth.com
###