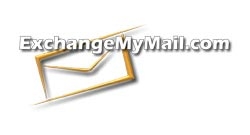 Albertson, NY, December 28, 2006 --(
PR.com
)-- Exchange My Mail Inc. today announced that Postini anti-spam technology will be integrated and available on all Exchange My Mail Inc's Hosted Microsoft Exchange mailboxes Free of Charge. It's the industry's first integrated, multi-layered security solution purpose-built to protect email against all common threats, including spam, unlawful or unwanted content, denial of service attacks and computer viruses to be provided to Hosted Microsoft Exchange users Free of Charge.
"Postini is used as a front end protection to our infrastructure to help prevent directory harvest attacks, mailbombs, Dos, and other kinds of attacks," says CIO David Grantz.
"The pervasiveness of spam has become a major point of pain for the enterprise, resulting in lost revenue and employee productivity," said Brian Burke, research manager at IDC. Exchange My Mail Inc's email security solution, combining Postini's robust spam prevention engine, isolates threats and nullifies them.
Exchange My Mail Inc. is the first Hosted Microsoft Exchange provider to provide the following Postini services to our customer base free of charge.
Postini's Perimeter Manager Service Provider Edition's Powerful Features:
• Accurate spam filtering
• Inbound virus blocking
• Directory Harvest Attack and DoS blocking
• User-specific quarantines
• Automated user management
• Disaster Recovery spooling
• Flexible multi-policy architecture
• User-managed white and black lists
• Email and Online support 24x7
Postini Threat Identification Network™ (PTIN)
The Postini Threat Identification Network™ (PTIN) is a comprehensive, real-time information service that identifies malicious computers that have recently launched email attacks (viruses, phishing, spam, directory harvests). PTIN has been designed to be embedded in network equipment to provide network layer security, accessed by ISPs that want to stop spammers from hijacking their networks, and accessed by email accreditors and certification agencies that want clear, objective data about their clients.
PTIN Features and Benefits
Based on Actual Behavior
PTIN data is updated several times per minute by Postini's proprietary Traffic Monitor process, so PTIN's repository of malicious computers, identified and tracked by their IP addresses, is always up to date. At any given time, PTIN contains threat information for approximately 40,000 suspicious computers. Computers listed in PTIN have been observed sending unwanted email in the past few hours. PTIN data is based on the 1 billion SMTP connections that Postini processes every day for its 35,000 managed service customers. Unlike reputation systems, senders cannot self-certify their "good" reputation, thus bypassing defenses.
• Completely Objective
PTIN is based on a completely objective evaluation of the behavior of sending computers, tracking and evaluating more than 20 aspects of every SMTP connection processed by Postini. This means PTIN has none of the manual submission and subjective human review that plagues RBLs.
• Truly Real-Time
PTIN is real-time, with data updated by Postini every few seconds, unlike RBLs whose manual submission process can take hours or days to block an offending computer, and weeks or months to unblock. In a world where most unwanted email comes from "spam zombies" (PCs that have been compromised by viruses), this kind of latency in unacceptable. A PC can go from well-behaved, to malicious, and back to well-behaved again in a matter of minutes, so any system designed to track offending computers must be similarly dynamic in its data collection and updating.
• Flexible
PTIN's database contains detailed offense scores, rather than the simplistic deny/allow entries found in RBLs. This allows customers to set their own thresholds for how to handle offending computers. This granular scoring lets customers choose different actions – drop, block, redirect, throttle, black hole, quarantine or deliver – based on their preferences.
• Real-time integration to Directory Sync for streamlining disparate users
"We evaluated many companies in our search for an anti-spam partner," said David Grantz, Chief Information Officer, Exchange My Mail Inc. "Postini's proven innovation and market leadership in anti-spam technology and services made them the obvious choice."
"Exchange My Mail Inc's leadership in the Hosted Microsoft Exchange market, and commitment to enterprise security makes for the perfect partnership with Postini," said Sal DiPiazza, President, Exchange My Mail, Inc.
ExchangeMyMail.com offers premium Hosted Microsoft Exchange email and collaboration services that enable individuals and businesses of all sizes to communicate more efficiently; that is core to any enterprise looking to secure their email infrastructure.
For further information on Exchange My Mail inc's offering of premium Hosted Microsoft Exchange email and collaboration services please call 888-608-MAIL (6245) or visit
www.exchangemymail.com
.
For further information on the Postini Threat Identification Network, please see
www.postini.com
.
About Exchange My Mail Inc.
Exchange My Mail inc. History
Company Facts
Exchange My Mail Inc. is based out of Albertson, NY and operates in a secure Tier3 Data Center and Network Operation Center (NOC). This facility is fully N+1 redundant. Their Data Center achieved SAS 70 Type II compliance, assuring customers of their ability to fulfill HIPAA and Sarbanes-Oxley requirements for their IT infrastructure.
About Postini
Postini, Inc. is the industry's leading provider of email security and management for the enterprise. Postini's flagship Perimeter Manager service protects and secures the email systems of over 1,600 companies and 5 million users from malicious email attacks including spam, viruses, and Directory Harvest Attacks. The Postini Messaging Security platform processes over 120 million messages daily, making it the largest enterprise email processing infrastructure in the industry. Founded in 1999 and based in Redwood City, California, Postini is privately held and backed by first-tier venture capital firms. For more information, contact Postini at 866.767.8461 or visit
www.postini.com
.
For More Information: (Media and Industry Analysts Only Please)
Exchange My Mail Inc.:
Steven Daneshgar, Interactive Public Relations for Exchange My Mail Inc.
Tel. 888-608-MAIL (6245) X10 or steve@Exchangemymail.com
###