Freedom Bakery & Confections Introduces Computer Printed Dog Biscuits for National Dog Week and Proceeds to Benefit ASPCA
Freedom Bakery & Confections introduces new gourmet dog biscuit treats, Celebarktion. These gourmet treats are made with all human ingredients and decorated with an internally developed machine that prints with FDA approved food color. 25% off all online dog biscuit sales made during National Dog Week (September 22-28) will be donated to the ASPCA.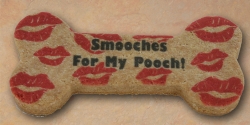 Watsonville, CA, September 02, 2010 --(
PR.com
)-- Known as one of the first bakeries in the country to offer photo cakes and cookies, Freedom Bakery & Confections (FB & C) has expanded it's offerings with a new line of full color imprinted dog biscuits. Made with 100% human grade ingredients, every Celebarktion™ Gourmet Pet Treat is hand made for dogs, businesses catering to dogs, and dog lovers. In addition to fun designs created for the dog lovers, these biscuits can also be imprinted with custom logos and designs for business owners to hand out to their dog loving clients.
FB & C uses an internally developed machine to print directly on cakes, cookies, and dog biscuits using FDA approved food coloring. This proprietary machine outputs at significantly higher resolution than commercially available food printers. The machine also offers consistent color control which is not available on commercially available machines. FB & C uses No rice paper or transfers on its cookie and biscuit lines resulting in better presentation and taste. "Our machine gives us the ability to closely match corporate logo colors which is important to our clients," says Paul Liu, owner of FB & C. On how the idea came to be, Mr. Lius said, "We've been digitally printing on cakes and cookies for the past 15 years and one day a customer asked if we can make dog biscuits. We first thought Dog Biscuits? Then quickly thought why not?! We've been providing treats for family and company celebrations for 35 years and dogs are a huge part of families!". The Bakery also offers a selection of fun designs for instant purchase at store or online. Dog biscuits couldn't have hit the bakery shelves at a better time with National Dog Week September 22 – 28, 2010. Freedom Bakery & Confections is giving 25% of all online dog biscuit sales to ASPCA during National Dog Week.
The Bakery: Freedom Bakery & Confections (FB&C) is a second generation, family owned and operated bakery located in Watsonville, California. The bakery was started in 1975 and offers wedding & all occasion cakes along with a wide selection of edible gifts. Product selection includes cakes, cookies, chocolates, and a variety of desserts. All products are made in-house using the finest ingredients available. FB & C focuses on both personal and corporate events and occasions. The bakery's proprietary computer decorating machine produces many customizable products that companies can use as unique marketing tools. FB & C has been involved in marketing projects for many high profile companies including: Microsoft, Google, Sketchers, Verizon, The Knot, and more. The logoed cookies and chocolates are shipped throughout North America and available on-line or through wholesale distribution outlets. Cakes, desserts, and confections are available at the Hangar Way retail store and will be available in select local fine grocers including Scotts Valley Market and Windmill Market in San Juan.
General Information:
Location: 125 Hangar Way, #120, Watsonville, CA 95076 (In the Strawberry Business Center behind corner of Anna St. and Hangar Way.). Business Hours: Monday – Saturday: 8AM – 6PM, Sunday: 8AM – 2PM. Tel: 831.722.5223 or 866.548.7266. Website:
www.FBandC.com
. Email: Sales@FBandC.com. Free Sampling Days every Wednesday, 8AM – 6PM.
###
Contact
Freedom Bakery & Confections
Anna Liu
408.242.9095
www.FBandC.com
Can also contact Paul Liu, 831.840.5209 or paul@FBandC.com

Contact