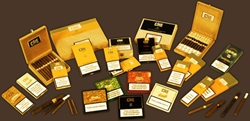 Miami, FL, September 08, 2010 --(
PR.com
)-- Teka Puro of Istanbul Tobacco has signed a multi-year agreement with Rafael Nodal of Oliveros Cigars to provide consulting services and serve as the exclusive international representative for all Teka products. Teka Puro is the only manufacturer of Tobacco Products in Turkey and originally was a joint venture between the government of Cuba and the government of Turkey. Teka Puro used to produce Fonseca Cigarillos and other Cuban brands using tobacco from Cuba. Teka Puro was created in response to the growing market for cigars in Asia, the Middle East and Eastern Europe and was a project conceived by Cuban President Fidel Castro, who attended the opening of the factory. As a part of the privatization process of Turkish Tobacco monopoly, TEKA Puro was privatized a couple of years ago and it was sold to Azmi Erdogan and tobacco veteran A. Kemal Turk, whom also owns Che Cigar store in Istanbul. During the last few years Teka Puro has been producing mass-market cigars and now, as part of this cooperative agreement, Teka will also produce premium hand made cigars. Teka currently produces CHE cigars, cigarillos and flavored cigarillos and recently introduced Punta Cana, a line of rustic moist cigars.
Rafael Nodal is the president and co-founder of Oliveros Cigars, a boutique brand of premium cigars that is sold in the United States of America, Russia and other international markets. Rafael Nodal and his wife Dr. Alina Nodal, a practicing psychiatrist, come from a veteran cigar family from Pinar del Rio, Cuba. Mr. Nodal will serve as Senior Advisor to Teka Puro in the areas of production, product development, general operations, packaging and marketing and will be the exclusive international representative of all Teka tobacco products. Under the terms of the agreement, Plasencia Cigars will be the premier provider of tobacco for Teka Puro. Located in Honduras and Nicaragua, Plasencia Cigars is one of the largest growers of Habano tobacco leaves in the world and manufacturer of Premium Cigars. Plasencia Cigars is headed by Nestor Plasencia, a renown Cuban grower and his son, Nestor Andres Plasencia. Plasencia Cigars is partly owned by Swedish Match, which also owns in the USA, Cigars International and General Cigar, together with the rights to Cuban Cigar Brands in the USA like Cohiba, Bolivar, Hoyo de Monterrey, La Gloria Cubana, Partagas and Punch as well as interest in other tobacco companies like Arnold Andre in Europe.
"With the help of Mr. Nodal and the premium tobacco of Plasencia cigars, our company is getting ready for the international market as we improve our product lineup," said Mr. Erdogan, the shareholder of Teka Puro. "For Alina and me it is a great opportunity to work with such a wonderful group of individuals that are dedicated to produce the best possible cigars at the best possible prices," said Rafael Nodal. "With our perfect strategic location, the experience of Rafael Nodal and the Tobacco of Plasencia Cigars, we are ready to play an important part in the national, regional and International tobacco market," said Meltem Cebi from Teka Puro.
For information about Teka Puro of Istanbul Tobacco please contact
Meltem Cebi
meltem.cebi@tekapuro.com
www.TekaPuro.com
PH: 0 216 442 8975
For information about the cooperation agreement or about Oliveros Cigars please contact:
Hank Bischoff, Vice President
Habana Cuba Oliveros Cigars
Hank@OliverosCigars.com
www.Oliveroscigars.com
Ph: (305) 557- 6919
###