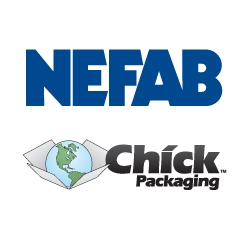 Dallas, TX, September 15, 2010 --(
PR.com
)-- Chick Packaging, Inc., a leading provider of industrial packaging solutions and services, is pleased to announce a merger with Nefab. This combination unites two market leaders, creating a world‐class and truly global packaging company with an unparalleled presence and comprehensive set of packaging solutions. The new organization will have more than 40 manufacturing sites in the Americas, Europe and Asia, and 2,900 employees.
"This combination creates a strategic platform with significant opportunities to deliver innovative packaging solutions that provide value for our customers in a dynamic and highly competitive global marketplace. Combined, our companies have the very best talent in the industry dedicated to delivering superior service and exceeding our customer's expectations," commented Brian Bulatao, President and CEO of Chick Packaging.
"The depth of our resources and the breadth of our reach with Nefab makes us stronger than ever. Nefab‐Chick will have eight Packaging Development Centers (PDC's) located across four continents. The PDC's, using advanced 3D CAD Systems and test facilities, can offer enhanced design, prototype, and testing services," said Mr. Bulatao.
"Our businesses and geographical scope are highly complementary, which will give the new organization both a strong position among multinationals based in the US, and a global customer base through Nefab's present network," commented Stefan Ekqvist, CEO of Nefab. "Through Chick's expertise and outstanding reputation, we can add solutions and services for a number of important customer segments including power generation, diagnostic/imaging equipment, aerospace and telecom/electronics packaging," said Mr. Ekqvist.
Brian Bulatao, CEO of Chick Packaging, will assume leadership for the combined companies operations in North and South America, including Canada, the US, Mexico and Brazil.
Media & Analyst Contact:
Brian Bulatao, CEO Chick Packaging
+1 469 464 2300
Stefan Ekqvist, CEO Nefab
+46 706 713005
Notes to editors
About Chick Packaging, Inc.
Chick Companies is a world leader in industrial packaging solutions and services. The company specializes in designing and manufacturing innovative packaging solutions that reduce total system costs for our customers. The company produces cost‐effective wood, corrugated, steel, plastic and hybrid containers, crates, and skids for a wide variety of industrial market segments. The specialty‐packaging leader is strategically positioned throughout North America and Europe to serve global as well as regional customers. For more information on Chick's activities, please visit
www.chickpackaging.com
.
About Nefab
Nefab delivers complete packaging solutions to international industrial groups, with special focus on the telecommunication, electronics, automotive, energy, medical and machinery industries. Nefab is present in 35 countries with 2, 200 employees. Its principal owners are Nordic Capital Fund VI and the founder family Nordgren/Phil. For more information on Nefab, please visit
www.nefab.com
.
###