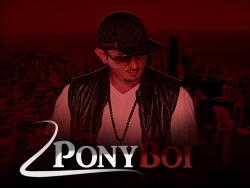 Los Angeles, CA, September 23, 2010 --(
PR.com
)-- Charmaine Blake PR Firm welcomes music scenes up and coming hip hop sensation Sergio Myers, also known as Pony Boi. Pony Boi is making the transition from a very successful multi-talented Network reality show creator, producer, award winning filmmaker, actor, and documentarian to an extremely talented Hip Hop Recording Artist called Pony Boi. "The rapping style, clever rhymes, charisma, and originality Pony Boi brings to the Hip Hop scene is like none ever heard before," says Hollywood Publicist Charmaine Blake. "The best way to describe Pony Boi is when everyone is taking the right at the fork in the road, Pony Boi goes left by adding his own style and flare to every song he is involved with," says Hollywood Publicist Charmaine Blake. Pony Boi is already being compared to as the next "Pit Bull" says Hollywood Publicist Charmaine Blake. Pony Boi has worked with CSP Music Group Studios in Atlanta with highly respected and successful people like Chris Starr, Sparkz the Trackman and Kalyko working on the tracks. He released his first smash hit single in 2005 "Don't Shake It" featuring Da Brat after signing a label deal with Bungalo Universal Music Distribution. He later released his highly anticipated debut album "Who Woulda Thought" in 2006 with Long Live Crime Records which featured Da Brat, Guerilla Black, Buccweet, Shar Jackson with big name producers Charlemagne (Talib Kweli, Shyne), Arden (Alicia Keys, John Meyers), Dutch (Ice Cube, Sisqo), and Marc 7even from Jurassic 5. His smash hit single "Yall Know" was featured on the Best of the South compilation. Pony Boi also starred-directed-produced a feature mockumentary which has become a street cult hiphop classic 'Becoming Pony Boi' a parody on his experiences in the music business, where he played fictional character Jackie Stein.
Although Pony Boi is only at the beginning of his career and has already achieved the amount of success he has and is leaving his mark in the Hip Hop scene as a unique and witty hip hop artist, he also has an extreme amount of success in the Film world. As a very successful filmmaker he has a unique style combining elements of Woody Allen and Sacha Baron Cohen movies, with a reality flair. Myers career as a Director/Producer first began by, winning the prestigious EBE Award for his documentary about the Heaven's Gate Cult. This film was also presented at the Margaret Mead Film Festival and later inducted into the American Museum of Natural History. Myers secured exclusive access into this controversial cult. Millions of viewers all over the world watched this story unfold and was only told how these people died and Sergio Myers wanted to show how they lived. The worldwide recognition of this amazing never before seen documentary and Myers skills at gaining access and storytelling, Myers was then hired to produce, direct and write 9 episodes of E! True Hollywood Stories. Some never before told stories included such celebrities as Redd Foxx, Linda Blair, The Kennedy's, Andy Kaufman and Bo Derek. Sergio Myers later went on to reality television, he was the creator and executive producer of the highly anticipated reality TV series, Sorority Life; on MTV. Sorority life was the first ever all female docu-soap series. For the first time ever, the MTV network picked up 13 episodes of Sorority Life; without a pilot. The successful series ran for 3 seasons, from there came the successful spin off series Fraternity Life for 2 seasons and three half hour specials, Meet The Greeks. His television series Sorority Life became the 'summers guilty pleasure' according to Entertainment Weekly.
Having had the success of his previous projects Myers secured development deals with heavy hitters HBO, MGM, VH1 and co-executive produced a pilot for FX. He then went on to direct and exec produce several reality series for Spike TV including 10 Things Every Guy Should Experience, Tripped Out: The Ultimate Guy Vacation, Crash Test and Street. Pony Boi was the 2009 Biffy Award Winner for Best Soundtrack for his Boret style, mockumentary which he starred-wrote-directed and performed all of the songs 'Becoming Pony Boi'. Sergio Myers awards and achievements include; 2008 Indie Fest Award Winner, official selection 2009 Chicago International Movies and Music Festival (CIMMfest), British Film Festival, Thailand International Film Festival, 2008 Best Comedy Feature Winner New York International Independent Film and Video Festival. Sergio Myers has already left his mark in the film world as a successful, creative, and risk taking creator and producer. Get ready because Pony Boi is getting ready to leave the same mark he left in the film world and leave that same mark in the music scene. "Pony Boi is a name to watch out for and a name you will remember, as he is about to grab the hip hip world with his bare hands and make it his," says Hollywood Publicist Charmaine Blake.
Charmaine Pr Firm
John Borger
Office: 424-204-9399
John@charmaineprfirm.com
www.myspace.com/ponyboimusic
www.youtube.com/officialponyboi
www.twitter.com/officialponyboi
www.facebook.com/officialponyboi
###