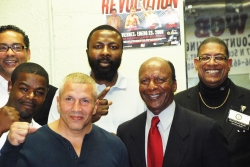 Joliet, IL, October 01, 2010 --(
PR.com
)-- The 1 Year Anniversary of The Will County Boxing Gym, held on the evening of September 28th, 2010 was a tremendous success. A diverse audience of over 150 people attended the anniversary event. Many well known Illinois dignitaries came out to speak in support of Joseph Awinongya and The Will County Boxing Gym. Steven DeJoie a Program Director with the Illinois Department of Human Services set the tone for the evening as the master of ceremonies. The event was highlighted by keynote speaker Secretary of State Jesse White. Secretary White shared words of encouragement and wisdom to a room full of eager young men and women. He took time at the conclusion of the event to get to know several Will County Boxing Gym members and their families. Secretary White was not only generous with his time, but also his pocketbook as he pledged to make a personal donation to the gym.
Special guest Mayor Claar of Bolingbrook offered kindhearted words of encouragement and pledged to make a very generous donation to The Will County Boxing Gym. Pastor of St. John Missionary Baptist Church and Elected Will County Board Member of District 8, Rev. Herbert Brooks delivered a powerful speech directed at the youth. J.D. Ross, former President of Joliet Junior College, spoke highly of The Will County Boxing Gym and its many accomplishments. Dennis Grosskopf the Chairman of the DNC in Will County and teacher at Winnetka High School spoke about being involved in the community. Jennifer Bertino-Tarrant, Regional Superintendent of Will County Public Schools spoke about the importance of education in the lives of children and offered to help provide computers to the Will County Boxing Gym. Dale Evans from Joliet Public Housing spoke positively about Joseph and the Will County Boxing Gym. Boxing Coach of Southeast Training Corporation of Chicago, Odell Reid reflected on his own life and spoke about the long-lasting positive impact the Will County Boxing Gym and organizations like it can have on a community. From every angle and standpoint, the 1 Year Anniversary Event was a smashing success. Thanks to all that attended this event and a Special Thanks to the many speakers who took time out of their busy schedules to lend their support and encouragement.
Highlights of the event will be featured in the upcoming movie 'Trainer Joe.'
Joseph Awinongya- former prized professional fighter, named the "Ringmaster" by Chicago Sun-Times, is the owner/trainer of Will County Boxing Gym. He is helping many learn the art of boxing and is thankful to his former promoter Don King for giving him an opportunity to find his strengths. Now, he is giving that chance to many others. Joseph has trained and helped several professional African fighters get to the next level. Will County Boxing Gym has over 400 members and offers boxing classes for every skill level. It is open to professional fighters, amateur boxers and boxing beginners. Joseph Awinongya, a Ghana native, currently resides in Will County – Joliet, IL.
To join the Will County Boxing Gym or for info on upcoming events contact
Joseph Awinongya at (877) 806-4611 or (630) 219-1076.
"Let not what you cannot do tear you from what you can do."
-Ghanaian Proverb
###
Get involved and help the youth of the community by making a pledge.
For further information see the contact information below.
Contact Info:
Will County Boxing
Valerie Ayertey
877 806 4611
ayingo@hotmail.com
www.willcountyboxing.com