Rinox Helps to Transform a Condominium Pool Into a Resort-Like Atmosphere for Residents
Rinox Pavers and Visionscapes Landscape Design transform an aging and tired community pool into a resort-like atmosphere for residents to enjoy.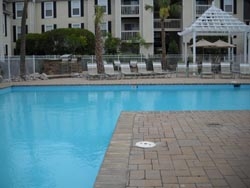 Philadelphia, PA, October 13, 2010 --(
PR.com
)-- The owners of the Columbus Station Condominiums in Virginia Beach, Virginia, were dealing with the challenge of an existing poured concrete
pool
deck that was quickly deteriorating. They wanted to create a centerpiece for their condominium community, especially since completing some major renovations to all of the surrounding apartments. In order to lure in the clientele they wanted, the owners knew that the pool area was the first and last impression to potential renters and buyers. Something needed to be done in order to dress up this area.
The owners enlisted the help from Shawn Anderson at Visionscapes. Shawn is an expert in large projects and is very focused on delivering precisely what his customer wants. In this case, the project called for something primarily visually appealing, secondarily, functional for dozens of families to use at the same time, and thirdly, giving the feeling of being personal and non-commercial, like in one's own back yard.
A large open pool deck could not be circumvented, however, with the use of Rinox's
Palazzo Modulo pavers
, the project immediately took on the feeling of luxury. The design included small areas that families can use individually giving the sense of privacy. These areas include a small kitchenette with a gas grill, bar area with stools, a raised area with a natural gas fire pit, and three pergolas, under which tables were placed. Also, under each pergola, the paver layout was changed from a random pattern to a diagonal 12x12" pattern to give it compartmentalization and the impression of being its own "room." The addition of river stone next to the walkways and fences, palm trees and a pondless stream gave the project the softening that it deserved.
The owners were so impressed with the design that the go ahead was given without any revisions. The result is a wonderful community pool that welcomes all its populace in for a dip and makes them want to stay and socialize with their neighbors.
About Rinox:
Rinox Pavers is an industry leading manufacturer of concrete paving stones, patio
pavers
, retaining wall systems, landscape block and masonry products and has continued to make dreams come true in private homes and commercial settings throughout the Northeast United States and Eastern Canada. Rinox distributes their material through authorized dealers from their Pennsylvania facility to New York, New Jersey, Pennsylvania, Delaware, Maryland, Washington D.C., North Carolina, Virginia, and West Virginia. Rinox proudly displays their hardscape materials at local outdoor showrooms and offers instructional classes for the do-it-yourselfer. For those interested in having a contractor quote a hardscape project, log on to www.rinoxpavers.com to get started.
If you have any questions, would like more information, or to enter your Rinox job into our "Project of the Month" contest please contact us at
www.rinoxpavers.com
or call 1-866-99-RINOX.
###
Contact
Rinox
Ira Vosper
610-323-6600
www.rinoxpavers.com

Contact