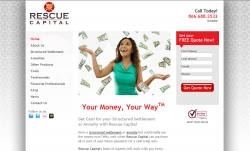 Philadelphia, PA, October 15, 2010 --(
PR.com
)-- Specialty finance firm, Rescue Capital, has launched a new English-language version of their website this week. The site, www.rescuecapital.com was designed to provide potential and current customers with content to help them achieve their financial goals. In addition, the website's design will provide visitors with a better overall user-experience.
Rescue Capital's Creative Director Dawn Anderson stated, "We always knew that we wanted to provide our customers with a more robust experience than our previous site provided." Anderson further stated, "Our new site was designed with ease of use and scalability in mind. We wanted our site to be easy to navigate but we also didn't want to do a site redesign every time we added content." In addition to more enhanced tools, the site focuses on educating the seller of future structured settlements and annuities payments about the overall process.
While the new site's design and structure are completely new that doesn't mean everything was scrapped from the previous site. The site still has a blog and the VeriSign Trust Seal. According to Rescue Capital's Vice President of Marketing Craig Davidson, "In the highly competitive specialty finance landscape trust is very important. Having the site verified by VeriSign allows consumers, who may not be familiar with Rescue Capital, to feel confident when providing us with personal information."
In the upcoming weeks, Rescue Capital plans to add more enhanced features to the site as well as redesign their blog and Spanish Language website.
About Rescue Capital
Rescue Capital is a customer-focused specialty financial services firm that offers cash lump sum payments for structured settlements, annuities and other illiquid assets. For more information, visit their website at www.rescuecapital.com
###