Sigillu Releases Encrypted Secure Cellular Phones
Sigillu offers the safest and most efficient solution to keep sensitive cellular conversations and text messages secure from eavesdropping. It combines the highest grade of encryption software available with the most popular Nokia phones.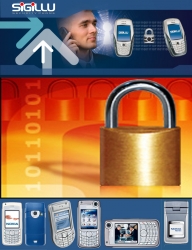 Miami, FL, January 18, 2007 --(
PR.com
)-- Sigillu is a totally secure Nokia phone which combines an easy to use interface with sophisticated high-level Israeli encryption algorithms. It is totally free of back-doors, and provides the optimal protection for conversations and text messages.
Sigillu consists of a regular Nokia phone featuring ultra-strong encryption software. It was developed especially for those who work every day with sensitive data and know how important it is to prevent confidential information from falling into the wrong hands.
The software converts the voice in real time to encrypted data with a constantly changing mathematical formula. It uses a large asymmetric key plus a changing session key that replaces the encryption every second. The encrypted stream is subsequently deciphered by the receiving unit, which converts it back to voice.
Phones are probably among the most essential devices in the contemporary business environment. People tend to relax and be more open to share information by phone. Industrial spies know it, and thus phone tapping is one of the most useful resources in their pursuit of valuable information. Intelligence gathering can also help criminal organizations optimize their extorsion demands. Information can also be a particularly valuable commodity for terrorists. Also, some individuals or companies may hire criminal groups to steal information.
There are several ways to intercept a cellular call. A device called IMSI catcher can be used to capture your call within a radius of several miles. Also, when a call travels within the network, there are numerous ways to listen-in, as the unencrypted signal travels from one cell to the next over microwave radio lines. Not to mention the threat of competitors bribing cell company employees, or foreign intelligence agencies listening for information that could benefit their national industries.
Sigillu offers, among others, the following features:
• Ultra strong encryption software with constantly changing session keys.
• End-to-end encryption of voice and text messages.
• It's a software-only solution implemented on regular Nokia phones.
• The process is not perceived by third parties.
• The user is not prevented from updating the phone firmware or operating system.
• Allows you to have just one mobile phone for both regular and secure calls.
Sigillu is a Nokia smart phone with ultra strong encryption software which makes it absolutely secure and unbreakable. It passed highly advanced security tests performed by both civilian and governmental experts, and is licensed by the Israeli Ministry of Defense.
If somebody manages to intercept the communication, its content will be protected even against the most sophisticated interception devices.
www.sigillu.com
###
Contact
Sigillu
Uzi Manu
954 376 5715
www.sigillu.com

Contact