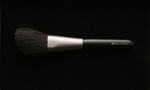 Hiroshima, Japan, October 20, 2010 --(
PR.com
)-- Mizuho Brush Co., Ltd in Japan honorably announces their 3rd exhibition at the the worldwide cosmetic exhibition, Cosmoprof Asia 2010, dating from 10 Nov. 2010 to 12 Nov. 2010, at the Hong Kong Convention & Exhibition Centre.
Brand new products - Mizuho hereby releases their brand new makeup brush line "CMP series" & "MB series" which can be fit for and attractive to worldwide cosmetic professionals.
Mizuho Brush Co., Ltd. (Japan) - was founded by their current CEO Mr. Taiji Shakuda in 1980. Kumano town in Hiroshima, where Mizuho Brush is located, is well known as a "Brush making town" with a 180 year history of calligraphy, painting brushes. At the end of the 1960's, Mr. Shu, the founder of "Shu Uemura," collaborated with a joint team of Kumano brush makers. Through their perfected brush development, there soon incurred a Chemical Reaction which produced high quality brushes of Uncut and prompt Stiffness with High Quality brush tips; and the products were soon accepted and inspired by worldwide cosmetic brands and sophisticated makeup professionals. And as a matter of course, "Kumano brushes, made in Japan" came to be well known and recognized as being synonymous with high quality brushes among the professionals & major Cosmetic makers.
"Uncut, prompt Stiffness of brush tips" -- One of the most unsurpassed, remarkable specifications of the Mizuho Brush is the "Uncut and prompt Stiffness of brush tips" which is produced by the coordination & development of finishing the high grade brush hair.
"3rd appearance at Cosmoprof Asia 2010" by Mizuho -- This is the 3rd appearance of Mizuho Brush at Cosmoprof Asia. Mizuho welcomed more than 250 visitors at Cosmoprof Asia 2009. And this year, Mizuho is seeking to meet more customers who have the potential to develop the high quality makeup brushes.
During the show, English-speaking staff members from the Mizuho head office will be promoting the brand new brush lines with sincerity and responsibility. All visitors, makeup professionals, cosmetic makers and retailers can be given an initial proposal from Mizuho upon their needs, which can be enjoyed the benefit of direct shipping price and services from Japanese brush maker.
Mizuho Brush is hoping that all visitors will be encouraged and inspired by their brushes and that by holding the brushes themselves they may feel the craftsmanship, exquisite softness and stiffness of the Mizuho Brushes. Mizuho Brush will be at the Japanese Pavillion booth # 1E-B3D in Hall 1E.
###
Visitor Information :
Show duration : 10th to 12nd November 2010, 9:30 am - 6 :30 pm.
Venue : The Hong Kong Convention and Exhibition Centre
Mizuho Booth : #: 1E-B3D (@ Japanese Pavilion)
Exhibition Items: Their flagship brand, "
Mizuho Brush
" all hand-made in Japan
Contact : Osahiro Maruyama (Mr.), email
info@mizuho-brush.com
or Fax # +81-82-854-0432