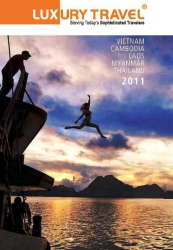 Hanoi, Vietnam, October 26, 2010 --(
PR.com
)-- Vietnam's first luxury travel operator (www.luxurytravelvietnam.com) has created a 148-page digital brochure covering a range of luxury travel products in South East Asia.
The decision to produce the e - brochure is because it is very trendy, fast, reliable and cost effective to the company. Luxury Travel becomes a high tech company for the benefits of its customers. The Luxury Travel's e-brochure contains the company's luxury tourism concept, philosophy and the very best of Vietnam, Laos, Cambodia, Thailand and Myanmar.
http://luxurytravelvietnam.com/brochure/2011/index.html
http://upload.luxurytravelvietnam.com/book/Luxury_Travel_Brochure_2010_2011.pdf
"I am excited to unveil a new, luxurious and better than ever 2011 Luxury Travel Company Catalogue. Presenting the content in an easy-to-read format and attractive layout, the 148-page full color brochure is filled with captivating pictures contributed by our professional luxury travel advisor team and photographers specializing in Southeast Asia. We publish this year both traditional printed brochure and digital brochure," said Pham Ha, CEO of Luxury Travel Company.
A range of luxury options include chauffeur driven transfers, deluxe rooms at the luxury hotels and resorts and private excursions with tour guide. Upon request a helicopter tour, restaurant reservations, meetings with artists, cooking instructors and designers, shopping recommendations, spa reservations, tours with special-interest lecturers, and exclusive access to local activities and cultural events.
Each country features a sketch outline of one "sample inspirational itinerary" accompanied by "special interest tours" and brief descriptions of the most noted cities/regions/sites in each country day by day itinerary with prices, hotels names, types of rooms and preferred hotels and its website.
The Luxury Travel brochure is lavishly illustrated with photographs of luxury insiders picks of luxury travel advisors, quotes of media, and famous sayings of famous people about luxury, and testimonials of Luxury Travel's formers travelers.
To start selling luxury tour packages in Indochina, Thailand and Myanmar, travel agents log in and fill in their company information at (http://www.luxurytravelvietnam.com/EN/GE/agent_zone_login.php) and enjoy 15% commission of travel industry with given code. Luxury Travel Group Ltd is passionate about providing a luxury travel service that creates experiences of a lifetime.
"We promote our luxury travel products at Top Resa Paris, ITB Asia, ATF Cambodia, ITB Berlin, Salon Mondial du Tourisme Paris, Luxury Travel Fair, WTM London, Luxury Travel Expo, FITUR. We do hope that our newest Luxury Travel's brochure 2011 and luxury travel guide book to help our travel professionals to generate sales. Interested travel colleagues can make an appointment with us and further discussion about this profitable market share in the emerging luxury destinations such as Vietnam and Cambodia," added Pham Ha.
For more info and tariff 2011, visit
www.luxurytravelvietnam.com
or email to brochure2011@luxurytravelvietnam.com
###