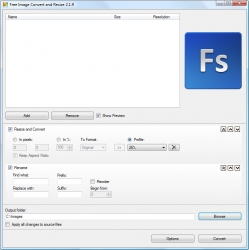 New York, NY, October 30, 2010 --(
PR.com
)-- With increasing popularity of multimedia programs DVDVideoSoft never doubts to respond to users' needs and thus prepared a new release of Free Image Convert and Resize 2.1.
Free Image Convert and Resize is a compact yet powerful program for batch mode image processing. However, simple usage appears to be the main advantage of the program. It easily converts separate images as well as whole file folders containing images into different graphic formats, such as jpg, png, bmp, gif, tga. The latest version of the program also features export to pdf format.
At the same time format conversion does not limit functions of the program. Free Image Convert and Resize undertakes a bulk of work as nowadays any person needs to process plenty and plenty pictures from holidays, marriages and different leisure time activities. The program makes it easier and more entertaining as it also renames and reorders selected images as well as changes the size of the images in accordance with the parameters defined by the user.
Company's representative Aline Terny: "Development of Free Image Convert and Resize was predetermined by wishes of our users. And it is not any kind of news that we follow requests of our multiple users whose number is growing within every day. Everyday visits to our webpage now amount to 400000."
All in all Free Image Convert and Resize follows the basic principles of DVDVideoSoft programs: free, simple to use and useful for everybody. As usual, the whole set of free multimedia programs is presented on company's website
www.dvdvideosoft.com
.
About DVDVideoSoft:
DVDVideoSoft (
www.dvdvideosoft.com
) is an independent developer of multimedia software programs for video and audio processing which are free and, which is more important, simple and very useful. The company was founded at the end of 2006. Today DVDVideoSoft offers free applications which run under XP, Vista and Windows 7, writes step-by-step instructions on how to solve different multimedia tasks with the help of its programs and, if necessary, provides free comprehensive support in English, German, French, Spanish, Italian, Russian, Chinese and Japanese.
###