Abe Comes Home to Kentucky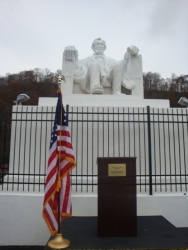 Stanville, KY, November 05, 2010 --(
PR.com
)-- The small town of Stanville in rural Kentucky was certainly in its prime Thursday for the unveiling of the 2nd largest seated Lincoln Statue in the world.
The statue of America's 16th president was erected at the Eric C. Conn Law Firm. People poured in from the community and media. District Court Judge Darrell H. Mullins and the Crossbeat Drum-line band all participated in the ceremony honoring Lincoln. The statue was funded entirely by Eric C. Conn.
Renowned artist Jeff Koh sculpted the statue and craftsman at various locations made the base. The statue of Lincoln took over a year to complete and base that it rests on took five months to complete.
Sixty-four 5th grade students from the Betsy Layne Elementary School said the ceremony was "really cool." The Eric C. Conn Law Firm oversaw the execution of the event. Eric C. Conn said that he was very pleased with the interest and attendance at the event.
The statue is open to the public every day of the week.
###
Contact
Eric C Conn Law Firm
Jamie Slone
1-606-478-5100
MrSocialSecurity.com

Contact