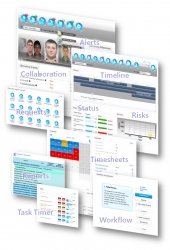 Barcelona, Spain, November 17, 2010 --(
PR.com
)-- Today, at Microsoft's Project Momentum 2010—EMEA event, SharkPro Software (
www.sharkprosoftware.com
) announced new global partnerships and multiple language support ahead of schedule to meet the growing demand for SharkPro Projects. "We've found a sweet spot among mid-sized businesses and new PMOs looking to ease into project and portfolio management," said Greg Bailey, CEO and Founder of SharkPro Software Corporation. "So many mid-sized organizations around the world are running projects with Microsoft Project, Excel, or online PM tools. They are ready to take the next step. So we are making it easy for them to get started with a Microsoft PPM solution and grow with it."
"We are delighted to offer SharkPro Projects in English and Spanish to our customers throughout Latin America," said Oscar Estrada, Managing Director of EPM Services de México. EPM Services of Mexico S.C. is a consulting firm specialized in accelerating the adoption of processes and tools for managing projects and portfolios based on the technologies of Microsoft Corporation. "Combining our expertise in EPM with a ready-to-go solution like SharkPro Projects means our customers can immediately realize business value."
"We've done several on-site deployments of SharkPro Projects," says Oleg Snurnikov, CTO at Viasoft, LTD of Kharkov, Ukraine. "Installation is quick with all the built-in roles, portals, and reports. Sometimes we help migrate data from Project Server 2007 to 2010, or do customization of dashboards, forms, and reports. So the customer is ready-to-go right away."
"I like the vision of SharkPro," said Atta Emami, PPM Manager at Central 1 Credit Union in Vancouver, Canada. "They've made on-demand EPM simplified so it's not overwhelmingly complicated. I can roll it out and have realistic reports for my management in a matter of days. And it has a slick user interface. SharkPro Projects eliminates a lot of unnecessary steps. Team members don't have to spend time finding the tasks they are assigned to, i.e. creating tasks on time sheets, or looking for related documents – they just start working and add hours to a task. Our Project managers can keep using Microsoft Project Professional and I don't have the risk that their projects get out of sync with our portfolios or the management reports."
Availability
SharkPro Projects is available now in English, German, Spanish, and Portuguese. Additional languages, including French and Ukrainian, are expected in December 2010. SharkPro Projects is sold internationally through a growing number of distributors, including: Projeqz SDN BHD (Malaysia, Singapore, Australia, India) www.projeqz.com, EPM Services de México (Mexico) www.epmservices.com.mx, and Viasoft, LTD (Ukraine) www.projectserver.com.ua.
About SharkPro Software
SharkPro Software Corporation (www.sharkprosoftware.com) enables mid-sized companies to quickly realize value from project and portfolio management by reducing the time, cost, and complexity of implementing Microsoft® Project Server 2010™. SharkPro Projects™ is a pre-configured implementation of Microsoft Project Server 2010 that can be deployed in hours on premise or hosted immediately. SharkPro Projects improves management visibility and team collaboration with an easy-to-use "Marbles" web interface, built-in roles, project requests, workflows, collaboration workspaces, dashboards, timesheets, task timer, reports, and social media. SharkPro Provisioner™ is an integrated tool used to automatically configure SharkPro Projects and Project Server to a customer's requirements. SharkPro Fast Path™ enables companies and agencies to immediately acquire all the SharkPro Software products and services they need right away, while delaying payment until realizing the value of their investment.
###