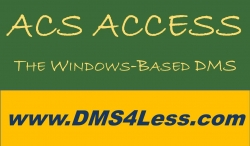 Mobile, AL, November 18, 2010 --(
PR.com
)-- Automotive Computer Services, Inc. (ACS) announced today the completion of their interface with KEYper Systems, an Electronic Key Management provider. This interface allows the KEYper Automotive software to receive vehicle make, model, year, color and stock information from the ACCESS DMS application to the KEYper Systems key management system, saving the dealership time and ensuring accuracy in populating key inventory. As an added benefit, "It provides greater salesperson accountability," Don Wessels, Sales Manager at Woody Anderson Ford explained.
About ACS:
Founded in 1992, Automotive Computer Services, Inc. (ACS) offers dealers ACCESS®, a comprehensive, fully integrated Windows-based Dealer Management System. ACS is a Microsoft Automotive Retail Solutions partner providing Microsoft based solutions to dealerships throughout the United States.
For more information visit the ACS web site at www.acsaccess.com Or call 1-800-ACS-8187, prompt 7.
About KEYper Systems
KEYper® Systems, based in Harrisburg, NC is a global company committed to providing you with the best solutions in key storage and key management, padlock management for your "lock out / tag out" procedures, and asset control of equipment. We offer multiple products that utilize a key box to manage and control keys and take the worry off your plate of who has the keys! Key control is a number one security issue for any industry, let KEYper® Systems key boxes provides you the key control you need.
We are committed to providing your company with the best and most efficient method of controlling your day to day operations with solutions to ease your key storage and key control issues.
In addition to providing the most robust equipment in the industry, we offer unsurpassed support and training. Utilizing the latest technologies in online training and support.
Visit www.keypersystems.com
Or call (1-800-399-7888) for more information.
###