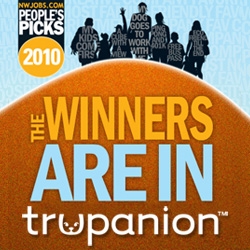 Seattle, WA, November 22, 2010 --(
PR.com
)-- The Seattle Times has named Trupanion, the nation's fastest-growing
pet insurance
company, as Seattle's 'Most Pet-Friendly Company' and the company with the 'Most Unusual Perk'.
Approximately 25% of Trupanion employees bring a pet to work, including a few who choose to bring their pet
cats
. Pets are gated inside cubicles with their owners and enjoy comfy beds, food and drink bowls, toys, and other belongings within their space.
"Dogs of all kinds, and cats as well, can be found running around the courtyard at the Ballard headquarters of this pet insurance provider, sleeping underneath and on top of desks," the Seattle Times article announcing the award stated. "And just like the humans in the office, they're all friends."
Trupanion has developed a pet policy to ensure all pets brought into the office are happy and healthy members of the team.
"We truly love having such a pet-friendly office," said Darren DeFeo, Senior Vice President of E-Commerce at Trupanion. "We feel that the energy our dogs and cats bring to the workplace makes us more efficient and even more dedicated to our mission."
Seattle Times also gave Trupanion the distinction of the company with the 'Most Unusual Perk' for offering employees free pet insurance for a pet dog or cat. Employees have the option of insuring a pet with a Trupanion policy with a $0 deductible.
"We believe in our product and know how beneficial it is for pets and their owners," said DeFeo. "We want to know that our employees' pets are protected in case the unthinkable happens. They are family, after all."
Trupanion was also a finalist in the small companies category for Favorite Seattle-area Company.
About Trupanion™
Trupanion™ pet insurance offers cat insurance and dog insurance in the United States and Canada. Trupanion™ is self-underwritten by the American Pet Insurance Company, allowing Trupanion™ to offer a simple, customizable pet insurance policy with no payout limits and 90% coverage of veterinary bills. Enrolled pets receive lifetime coverage for diagnostic tests, surgeries, and medications if they get sick or are injured, with no incident, annual or lifetime limit. Trupanion's mission is to deliver fast, simple and user-friendly financial support to pet owners. For more information about Trupanion™, call 800-569-7913 or visit http://www.TrupanionPetInsurance.com.
About the North American Pet Health Insurance Association
Trupanion™ is a founding member of the North American Pet Health Insurance Association (NAPHIA). Founded in 2007, the North American Pet Health Insurance Association is committed to educating and promoting the values and benefits of quality pet health insurance to North American pet owners, the general public, and the veterinary community. As an association, we are committed to high standards and transparency in all of our actions and products. To learn more, visit the North American Pet Health Insurance Association website at http://www.naphia.org.
###