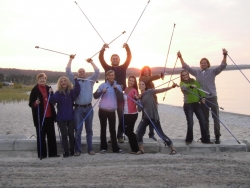 Glen Arbor, MI, November 25, 2010 --(
PR.com
)-- The SWIX VIP Nordic Walking Poles were designed by Pete Edwards the owner/founder of the American Nordic Walking System and
www.Skiwalking.com
– headquartered in Glen Arbor, Michigan. The distinctive Norwegian blue VIP Nordic Walking Poles are made exclusively for Edwards' company by SWIX of Norway (the world leader in ski racing poles and ski wax).
Edwards has been coaching runners and skiers for over 25 years. He has applied his knowledge of sports fitness and biomechanics into his Nordic Ski Walking business. With 100% positive customer satisfaction ratings he is recognized for offering quality products and supplying helpful educational information. Edwards claims that 100% positive customer satisfaction ratings would be impossible if he promoted inferior 2-piece and 3-piece collapsible poles. Edwards ships his specialized one-piece Nordic walking poles worldwide.
According to Nick Mahood, SWIX USA Nordic Walking Director, "Pete Edwards, The American Nordic Walking System and Skiwalking.com's owner/founder, has single handedly introduced thousands of Americans to Nordic Walking through his enthusiastic Nordic Walking clinics! I have no doubt that Edwards is the #1 retailer of Nordic Walking Poles in the USA! You can quote me on that!"
TOPS Club, Inc. is the original, nonprofit, weight-loss support and wellness education organization. TOPS Club, Inc. was established in 1948 to champion weight-loss support and success. TOPS Club, Inc. promotes: healthy eating, regular exercise, awards and recognition, wellness information and support from others at weekly chapter meetings
TOPS News is a membership magazine included in the annual membership fee. TOPS' Mission is to support our members as they take off and keep off pounds sensibly. TOPS has about 170,000 members in nearly 10,000 chapters throughout the United States and Canada.
Walking with poles can burn up to 40% more calories than regular walking - turbo charging the average walking campaign. Nordic Walking Poles can help maximize fitness success – especially when combined with a weight management program (like TOPS or Weight Watchers), or a swimming program, a gym membership, bicycling, palates and/or other healthy activities.
###