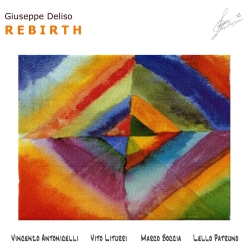 Bari, Italy, November 27, 2010 --(
PR.com
)-- Giuseppe Deliso is an Italian jazz guitarist who has been making and playing some of the best traditional jazz to be found anywhere in the world for a number of years.
Now, the modern-day answer to Grant Green has finally released the first full album of his self-penned works.
The record – "Rebirth" – is the perfect demonstration of the versatility that makes Giuseppe such a unique talent. It includes wonderfully inventive examples of blues, bossa nova, latin, be-bop and traditional jazz. All played with Giuseppe's tell-tale marks of invention, wit and creativity.
It is a collection of songs as fresh and remarkable as on any jazz album released in modern times. But, while being unmistakeably of its time, it also gives a nod to the greats that inspired it. You can hear the influence of Green alongside Lee Ritenour, Charlie Christian, Louis Armstrong and George Benson. Yet Giuseppe also puts his own inimitable personal mark on everything he touches.
The record is a long time coming. The title track – "Rebirth" – comes from an idea originally composed by Giuseppe 20 years before, but which has been molded and crafted over time to become possibly the stand-out song in this collection. It is not only an appropriate name for the song, but also for the album. This is a record that will give birth not only to its creator's name in the music-loving public but might even make some listeners rediscover their old love for great jazz.
Accompanied by some truly outstanding individuals – Marco Boccia on bass, pianist Vito Liturri, Davide Viterbo on cello, drummer Lello Patruno and sax player Vincenzo Antonicelli – Giuseppe's playing shines through like a beacon.
"Rebirth" is a record not only for jazz lovers, but for lovers of any music that comes from deep in the soul. It is a genuinely remarkable performance from a genuinely remarkable musician and composer who will now finally discover the fame he so richly deserves.
"Rebirth" is available to buy now from CD Baby.
###